Samsung Infuse 4G HDMI-out Adapter Demonstration
9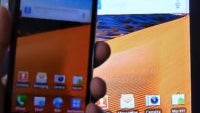 Seeing that most top shelf devices nowadays are sporting things like
microHDMI ports to easily share multimedia content
with high-definition television sets, it's rather bewildering to say the least that it's lacking with a prestigious device like the
Samsung Infuse 4G
.
Fear not because Samsung surprisingly packages along an
HDMI-out adapter with the handset
– meaning, you can still get all your multimedia content sharing groove thing going on. Although it might be a pain being required to carry it around with you, unlike the convenience of a dedicated built-in microHDMI port, it's still a nice gesture since you don't have to pay for it (
like the iPad 2
).
Naturally, the adapter is connected to the Samsung Infuse 4G through its microUSB port, from there, you can attach your usual HDMI cable to it. However, this adapter
requires a little bit of extra juice
that's not sufficiently supplied by the microUSB port. Instead, you'll need to use the included wall charger to connect it to the HDMI-out adapter – so on top of the adapter, you'll need to lug around its wall charger as well.
Once you have the initial set up all nailed down, you'll be presented with a mirrored experience on your high-definition television set. From navigating across its homescreens to launching specific apps, everything is translated over well without much delay. Web browsing is undoubtedly nice, especially in landscape, because it'll encompass the entire area of the television set – as opposed to the narrow confines in portrait.
Moreover, we're able to play songs and 720p videos stored locally on the handset through the television set. Lastly, games like Angry Birds look magnificent on the big screen – though, we'd recommend having a long enough HDMI cable to fully enjoy it while kicking it back on the couch.
Recommended Stories