Samsung Gear S service plan to start at $10 on Sprint
18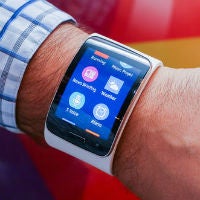 Samsung's first attempt at a standalone smartwatch, the Gear S, is scheduled to be released by
major carriers
within the next couple months. We know the basics about the Gear S - it's enormous, comparably specced to other smartwatches, and runs Tizen - but there are still a couple big questions surrounding the device. We don't know what to expect from the battery life, but we do now have an idea of what to expect as far as service plans.
Because the Gear S is a 3G-enabled smartwatch, that means it will require its own service plan, if you do intend to use it as a standalone device. Recently,
Phandroid
got its hands on a leaked memo from Sprint that details what options customers will have for the Gear S. There are two options, which start at $10 per month. The first option is a standalone plan offering 1000 minutes, 1000 messages, and 100MB of data. That may not sound like much, but keeping in mind that this is a smartwatch, usage would reasonably be expected to be lower. The other option is to add the Gear S to your Family pack, which again would cost $10, but would allow your Gear S to share your unlimited minutes and texts, and share whatever data plan you have.
Of course, if you just want to have an oddly large smartwatch, and you don't care much about the standalone capabilities, you can still use a Gear S tethered to your smartwatch via Bluetooth. In that case, you wouldn't need a service plan, because talk, text, and data would be run through your phone.