Samsung Galaxy WiFi 3.6 wants to take on the iPod Touch
31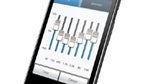 Samsung doesn't just want to be in the phone and tablet market, the Korean company is giving another try towards the dwindling portable media player market. Smartphones have been taking over the music player segment of media players, and tablets have been taking on the video side, but Samsung still thinks there's enough of a niche for a smaller screen media player/gaming device with the Galaxy WiFi 3.6.
As you'd expect by Samsung's naming scheme, the device will feature a 3.65" screen. It will not have a cell radio, so it will not be able to make voice calls, but it will have a microphone and speakers for possible video calling on WiFi. The device will have a 1 GHz OMAP processor (likely single core), Android 2.3, a 2 MP rear camera, a VGA front camera, and most other features you'd expect like GPS, Bluetooth, USB 2.0, an accelerometer, and compass. The device will support a wide array of media codecs for playback, and it will have full access to the Android Market (which is unexpected given the lack of cell radio on an Android 2.x device).
A 3.65" screen is considered pretty small by today's standards, and Samsung has devices sizing up all the way to 10", but the price may be the main factor. The Galaxy WiFi 3.6 is expected out in early October in the UK. Pricing has been listed at £149 for the 8 GB version and £169 for 16 GB.