Samsung Galaxy Tab now enabled to make phone calls
6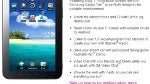 It seems that the
Samsung Galaxy Tab
's inability to make phone calls was a real deal-breaker for quite a few customers. Unsurprisingly, the XDA Developers said "challenge accepted" like they have done so many times before and found a way to enable the Samsung Galaxy Tab to make phone calls, just like the European version of the tablet.
However, there are two bad news – the first one is that this mod works only for the T-Mobile version of the Galaxy Tab and the second one is that the modifying itself is not the easiest you have done in your life. That said, this is only the beginning and we're sure that subscribers of the other carriers will get this mod very soon, while the hacking process that allows making and receiving phone calls will be facilitated.
That's obviously a good news for all these people who want this device really bad, but see no point in splashing a big amount of money on a device that can't make a simple phone call. For more information on the mod itself, check out the XDA forum that's linked below.
source:
XDA Developers
via
TMO News