Samsung Galaxy Tab Pro 12.2 lands in the US on March 9 for $649.99
13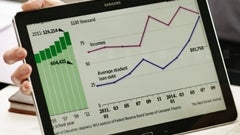 Last month,
Samsung released
the
Galaxy Tab Pro 8.4
,
Galaxy Tab Pro 10.1
and
Galaxy Note Pro 12.2
in the US, saying that the
Galaxy Tab Pro 12.2
would arrive a bit later, in March. Well, the largest among the new Tab Pro slates is now also ready to hit shelves.
Samsung today announced that the Galaxy Tab Pro 12.2 would be launched Stateside on March 9. Prices start at $649.99 - this will get you a Wi-Fi-only 32GB version of the new tablet. Customers will be able to buy the Tab Pro 12.2 online from Samsung, as well as at Amazon, Best Buy, Walmart, Newegg, Fry's, Tiger Direct, and P.C. Richard and Sons.
The Galaxy Tab Pro 12.2 is a perfect alternative to the Note Pro 12.2, which costs $749.99 (or $849.99 if you want to go for the 64GB variant). Of course, unlike the Note Pro, the Tab Pro 12.2 does not have an S Pen stylus (which is responsible for the higher price).
Sporting a 12.2-inch display with 2560 x 1600 pixels, the Samsung Galaxy Tab Pro 12.2 is a massive tablet that weighs 740 grams. It runs Android 4.4 KitKat with a new Magazine UX, and offers lots of high-end features, including 3GB of RAM and a quad-core 2.3GHz Snapdragon processor.