Samsung Galaxy Tab 2 7.0 Student Edition bundle challenges the Nexus 7 in value for the money, coming soon to Best Buy
35
All the buzz in tablets recently is for the Google Nexus 7, a brilliant and very cheap 7-inch tablet, but there is another product that matches it and outdoes it in many areas and yet doesn't get all that publicity - the Samsung Galaxy Tab 2 7.0. It is a 7-inch tablet that sells for the slightly more pricey $249 for its 8GB version, but those extra $50 buy you expandable memory and a rear camera.
And now, Samsung is releasing the Galaxy Tab 2 7.0 Student Edition that easily beats the Nexus 7 in terms of value for the money. And that's a huge statement. Here's why - the Tab 2 7.0 Student Edition sells for the same $249 but it also includes a keyboard dock and a USB peripheral connector in the price.
Now, the Galaxy Tab 2 7.0 Student Edition is said to arrive in Best Buy stores on August 19th, so you'd definitely have a hard choice if you're looking for a no-compromise 7-inch tablet nowadays. Which one would you prefer - the Nexus 7 or the Galaxy Tab 2 7.0 with the keyboard and USB connector bundle?
source:
Engadget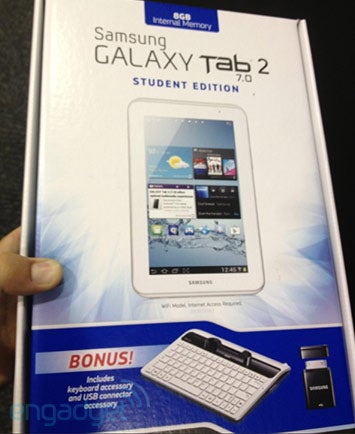 Recommended Stories