Samsung Galaxy Tab 10.1 stars in 12-minute video, teases camera samples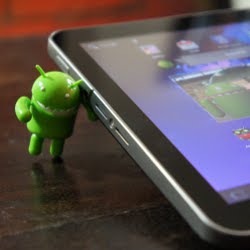 Oh, the Samsung Galaxy Tab 10.1! The tablet dubbed "inadequate" in comparison to the iPad will make it to theshelves on time, but will it bring some changes in features or pricing tobeat Apple's tablet? A 12-minute video of the peaceful coexistance ofman and tablet in France aims to give an overview of all the slate can offer including full HD playback on a 10.1-inch screen with aresolution of 1280 x 800 pixels, 8-megapixel stills (samples are downsized unfortunately) and Flashplayback.

The 1GHz dual-core processor on the Galaxy Tab 10.1 shouldactually outperform the 900MHz one on the iPad 2, but Sammy's tabletalso hits Apple where it hurts the most as the new Galaxy Tab 10.1 iseven lighter than the second-gen iPad. Is this enough to wake theAndroid geek in you?