Samsung Galaxy S7 edge vs Apple iPhone 6s Plus: first look
72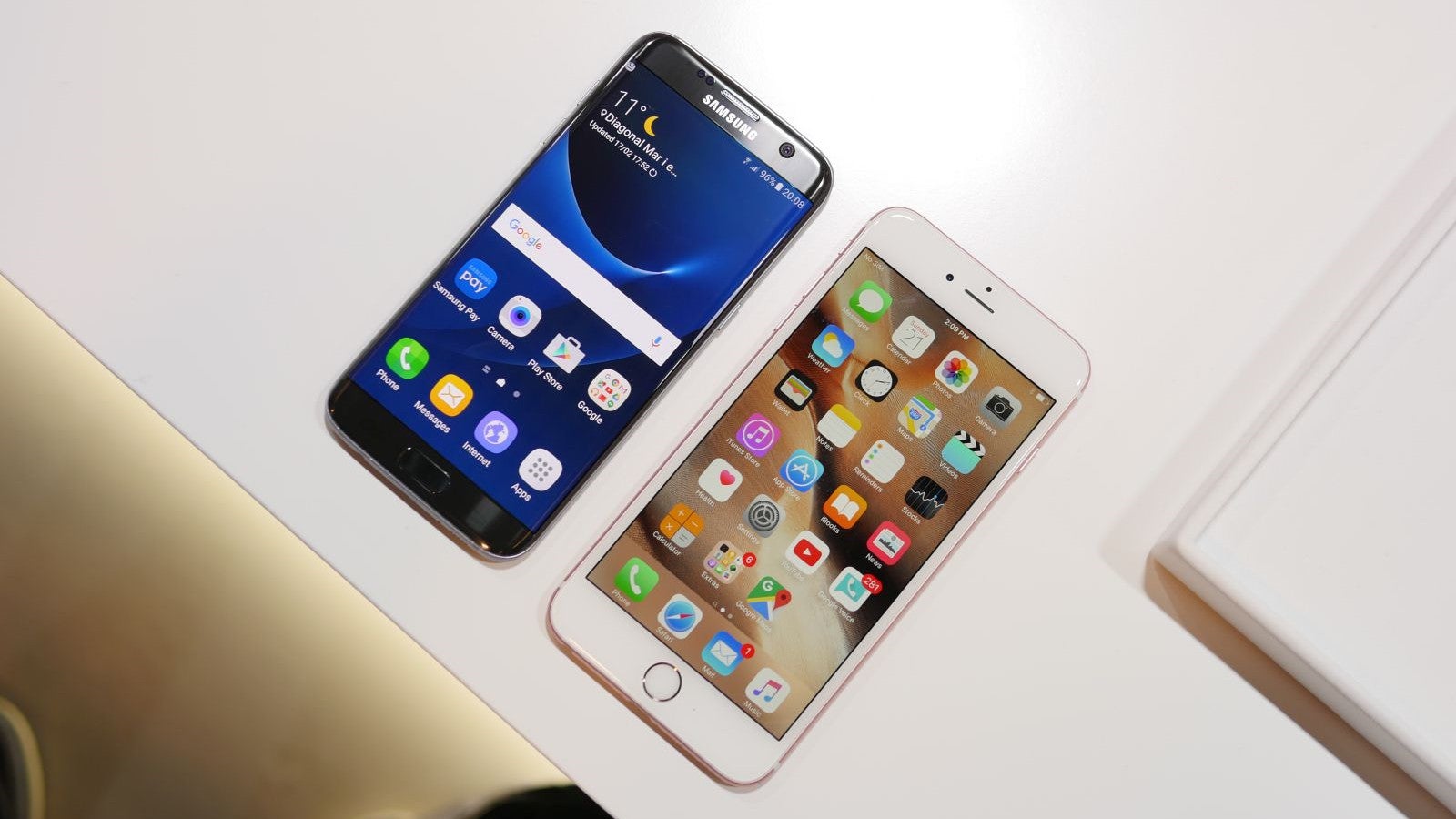 With so many smartphone manufacturers on the market, you'd think that it's a lucrative field if dozens upon dozens of makers fight for relevance. But the reality of today is that this ruthless competition benefits us, the consumers, and barely anyone else. In fact, according to some estimates, pretty much every cent worth of profit in 2015 went into either Samsung's or Apple's pocket, and mostly the latter.
That's no surprise. Sure, we all have our favorites, but go for a walk through the street and count the iPhones and Galaxies in people's hands. Together, they account for the vast, vast majority of smartphones you see. And judging by what we saw so far from MWC, Samsung's high-ends will continue having a spot in people's pockets.
With the 5.5-inch Galaxy S7 edge, the South Korean company is changing the tempo a little bit by going for a balance between last year's 5.1-inch S6 edge and 5.7-inch S6 edge+. This puts it right in the crosshairs of its archival Apple's larger iPhone 6s Plus. What does each have to offer, and where does one outdo the other? Join us below as we take our first crack at the question.
Design
The S7 edge looks decidedly more futuristic than the far more conservative iPhone 6s Plus.
It wasn't too long ago that you could ask us on matters of design when it comes to Samsung and Apple, and we'd have a ready-made answer: Samsung has a ton to learn, and Apple would be a good starting to point to do so. But ever since the Galaxy S6 edge escaped the lab, we've had to reconsider what makes a device stand out in the modern age. And whatever subjective properties your list includes, it's likely we're in agreement that Samsung's latest nail it. And the Galaxy S7 edge is no different.
Put next to the Apple iPhone 6s Plus, however, we're having trouble coming up with a description of the fundamental differences. It's like two devices set in different times somehow met in the middle, with the S7 edge looking decidedly more futuristic than the far more conservative iPhone 6s Plus. This is not to say that the Apple's phone looks or feels outdated, just a testament to the geekier, more sci-fi like nature of the S7 edge's design, with its dual curved display seeping into the metal frame on the sides.
Design philosophies aside, in practice the Galaxy S7 edge proves to be the more efficient design of the two. In terms of both size and weight, Apple's big iPhone is at a significant disadvantage by being
noticeably
bulkier. On the plus side, you won't hate your hands after using it, for its aluminum back is, in comparison, impervious to fingerprint smudges—which is not at all the case with the Galaxy S7 edge.
Display
Both are great-looking display, and it's the cool tricks they pull that are impressive: Always-on display with the S7 Edge and 3D Touch on the iPhone.
At 5.5 inches, both the S7 edge and the iPhone 6s Plus let you go wild with an identical allowance of screen real estate. Where the two differ is the number of pixels packed within their respective panels, with the Galaxy S7 edge winning the race with its 1440 x 2560 (vs 1080 x 1920) resolution. In the real world, however, this supposed advantage has more to do with bragging rights than actual user experience benefits—the screens are just too small for most people to appreciate the difference.
Digging deeper, there are other significant differentiators with both the Super AMOLED panel of the S7 edge and the IPS screen of the iPhone 6s Plus, and beyond those two curves of the former. More specifically, with Samsung's phablet you're getting an always-on display feature, which means the time and date, calendar, or an image can be set to be always present on the screen. This will add some convenience to using the device, and likely even save you battery by cutting down on the number of times you wake your device per day just to check for new notifications.
As for the iPhone 6s Plus' display, its 3D Touch tech continues to be unique for most intents and purposes. Thanks to it, the 6s Plus can tell a light tap from a hard press, modifying its behavior to better serve your needs by offering shortcuts to actions and the like.
Interface and functionality
Android vs iOS, TouchWiz vs Apple's simplicity
When it comes to Android and iOS, it's always been tough comparing the two platforms, just because they're so different at the core. Sure, as time has progressed, they have started looking more and more alike, with each adopting features previously available with the other, but it's still fair to say that they're different user experiences.
With the Samsung Galaxy S7 edge, it's fair to say that you have more control over what's what, and in terms of the layout of the interface. Interestingly, however, the latest version of Samsung's TouchWiz, based on Android 6.0.1 Marshmallow, offers the option to get rid of the app drawer—a feature the iPhone never had. So in a way, you technically
can
get that iPhone look if you so desire.
In terms of functionality, it's worth pointing out that both devices offer fingerprint authentication, and in both cases that is tied to a mobile payments solution—either Samsung Pay or Apple Pay.
Performance and memory
Snapdragon 820 vs Apple's A9... well, that's a battle for the geeks. In reality, both devices deliver very smooth operation.
With the Galaxy S7 family of devices, Samsung is going back to the old arrangement: Qualcomm's Snapdragon chips will power devices sold in the US, while its home-grown Exynos 8 series will hum under the surface of phones sold in most other regions. More specifically, it'll come down to a choice between a quad-core Snapdragon 820 and an octa-core Exynos 8890.
On the other side of the ring, Apple's iPhone 6s Plus might appear to be the underdog, what with 'just' a dual-core Apple A9 processor. But the reality is that the silicon has proven to be
extremely
powerful and efficient, easily competing with the best of the day. Just how well it spars with these two new chips available with the S7 edge, however, remains to be seen.
In our experience, both devices deliver very smooth operation that is devoid of noticeable stutters or lag, and heavy 3D titles that we tried on the new S7 edge ran flawlessly from what we could tell.
Camera
The new, 12MP camera on the S7 Edge holds big promise in low light.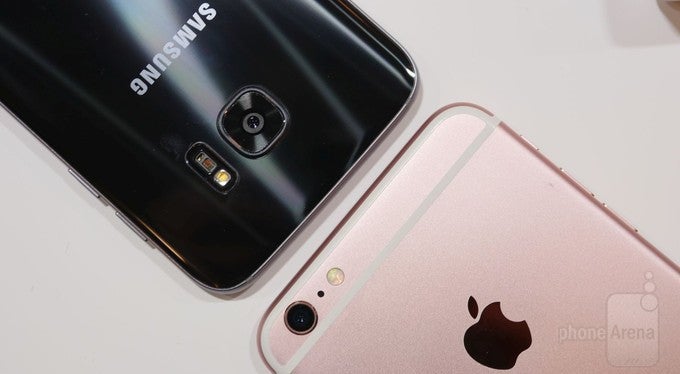 Well, the unthinkable happened: Samsung seemingly went back a step with the Galaxy S7 edge's camera by dropping the megapixel count from 16 to 12—in line with what the iPhone 6s Plus has to offer. But from what we've been told and from what we've seen for ourselves so far, that's a step in the right direction for sure.
Coupled with industry-leading,
f
/1.7 lens, the Galaxy S7 edge is Samsung's promise that low-light photography is something it's paying real attention to. At a test setup available at the company's pre-briefing, we were shown the S7 edge side-by-side with the S6 family, shooting in the dark, and the improvements were very noticeable—less noise, better preserved colors, and a brighter overall image. In addition, the optically stabilized camera also features considerably faster phase detection auto focus—faster than that of the 6s Plus for sure.
Both devices can shoot 4K video, as you'd expect at this point, and both have very decent selfie cameras, though our early impression is that the iPhone 6s Plus is bested here.
Expectations
With pre-orders about to start, the Galaxy S7 edge is expected to hit the market in the first half of March, or in a matter of weeks. Being more extravagant than the Galaxy S7, the S7 edge will cost you about a hundred bucks more to get, or about the same you'd pay for the iPhone 6s Plus. This puts the two devices on a collision course.
Of course, which one you pick will probably have more to do with brand loyalty, or even your investment in your current platform of choice. If you have a hefty library of paid games, apps, and music for iOS, switching to Android will be a pain, as you'll have to start from zero and burn even more cash. The opposite is also applicable, though to a smaller extent given how Android titles are free more often than not.
As for which one is the definitive superior pick, we'll have to wait until we get a Galaxy S7 edge in our offices for an in-depth analysis. Everything we say right now, after all, is based on our first impressions, and there's a ton of testing ahead of us before we can call it for sure. Until then, you'll have to sit tight and try and make sense of these two yourself.