Samsung Galaxy S6 edge+ vs Samsung Galaxy Note 4, LG G4: specs comparison
9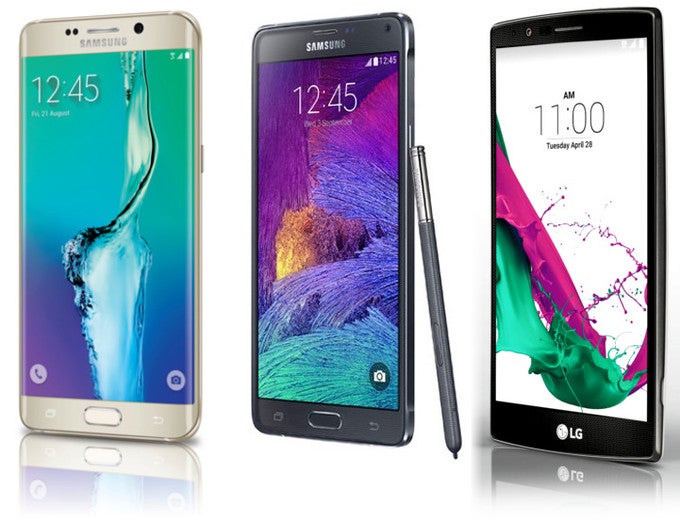 So, it looks like the rumors were on the right track. Samsung has been working on a larger version of the Galaxy S6 edge all along, and that rumored device has just been made official. Meet the Samsung Galaxy S6 edge+ – a smartphone blending powerful hardware with outstanding design and sprinkling it all with some TouchWiz on top.
But the Samsung Galaxy S6 edge+ is far from alone in the large-screen smartphone category. There belong dozens of great phones, including the Galaxy Note 4 – a phablet that has sold by the millions. And rightfully so. For many months, it was one of the best Androids money could buy, and we'd like to see how its stacks up against the S6 edge+ in terms of specs. And to make things more fun, let's throw the LG G4 in there as well. LG's flagship stands out with an exciting design and a powerful camera, all in a premium phone that makes people's heads turn.
Okay, enough chatter. Here's a quick specs comparison between the Samsung Galaxy S6 edge+, the Samsung Galaxy Note 4, and the LG G4.
Super AMOLED
IPS LCD
Super AMOLED
Scratch-resistant glass, Ambient light sensor, Proximity sensor
Scratch-resistant glass, Ambient light sensor, Proximity sensor
Scratch-resistant glass, Ambient light sensor, Proximity sensor
Samsung Exynos 7 Octa 5433 (20 nm)
Qualcomm Snapdragon 808 MSM8992 (20 nm)
Samsung Exynos 7 Octa 7420 (14 nm)
Octa-core, 1900 MHz, ARM Cortex-A57 and ARM Cortex-A53, 64-bit
Hexa-core, 1800 MHz, ARM Cortex-A57 and ARM Cortex-A53, 64-bit
Octa-core, 2100 MHz, ARM Cortex-A57 and ARM Cortex-A53, 64-bit
Mali-T760 MP6
Adreno 418
Mali-T760 MP8
32GB
32GB
64GB, not expandable
Android (6.0 Marshmallow, 5.1 Lollipop, 5.0 Lollipop, 4.4), Samsung TouchWiz UI
Android (6.0 Marshmallow, 5.1 Lollipop), LG UX UI
Android (7.0 Nougat, 6.0 Marshmallow, 5.1 Lollipop), Samsung TouchWiz UI
Qualcomm Quick Charge 2.0
Qualcomm Quick Charge 2.0
Qualcomm Quick Charge 2.0
18.50 hours
the

average

is 11 h (660 min)
28.00 hours
the

average

is 11 h (660 min)
14.0 days (336 hours)
the

average

is 29 days (688 h)
20.00 hours
the

average

is 0 h (0 min)
20.00 hours
the

average

is 0 h (0 min)
3G: 10 hours; LTE: 11 hours; Wi-Fi: 12 hours
Single camera
Single camera
Single camera
16 MP (OIS, Autofocus, BSI sensor)
16 MP (OIS, Laser autofocus)
16 MP (OIS, PDAF, BSI sensor)
Aperture size: F2.2; Focal length: 31 mm; Sensor size: 1/2.6"; Pixel size: 1.12 μm
Aperture size: F1.8; Focal length: 28 mm; Sensor size: 1/2.6"; Pixel size: 1.12 μm
Aperture size: F1.9; Focal length: 28 mm; Sensor size: 1/2.6"; Pixel size: 1.12 μm
3840x2160 (4K UHD) (30 fps), 1920x1080 (Full HD) (60 fps)
3840x2160 (4K UHD) (30 fps), 1920x1080 (Full HD) (30 fps), 1280x720 (HD) (120 fps)
3840x2160 (4K UHD) (30 fps), 2560x1440 (QHD), 1920x1080 (Full HD) (60 fps), 1280x720 (HD) (120 fps), 640x480 (VGA)
OIS, Continuous autofocus, Picture-taking during video recording, Video calling, Video sharing
OIS, Continuous autofocus, Picture-taking during video recording, Video light, Video calling, Video sharing
OIS, Time-lapse video, Continuous autofocus, Object tracking, EIS, Video calling
3.7 MP
8 MP
5 MP
2560x1440 (QHD) (30 fps)
1920x1080 (Full HD) (30 fps)
6.04 x 3.09 x 0.33 inches (153.5 x 78.6 x 8.5 mm)
5.86 x 3.00 x 0.39 inches (148.9 x 76.1 x 9.8 mm)
6.08 x 2.98 x 0.27 inches (154.4 x 75.8 x 6.9 mm)
6.21 oz (176.0 g)
the

average

is 6 oz (171 g)
5.47 oz (155.0 g)
the

average

is 6 oz (171 g)
5.40 oz (153.0 g)
the

average

is 6 oz (171 g)
Back: Plastic; Frame: Aluminum
Back: Plastic
Back: Glass; Frame: Metal
Fingerprint (swipe)
Fingerprint (touch)
Notification light, Touch sensitive control keys
Notification light, Interchangeable covers
Touch sensitive control keys