Samsung Galaxy S6 edge bends just as easily as the iPhone 6 Plus, more likely to break too
95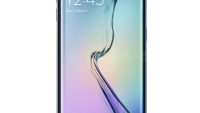 SquareTrade, a company that offers smartphone insurance plans in the United States, has a lot of interest in finding out which smartphones bend and break more easily. The company recently posted the results of internal testing that proves that the
Samsung Galaxy S6 edge
bends just as easily as the
Apple iPhone 6 Plus
. Furthermore, the Galaxy S6 edge is more likely to break and be rendered useless than the iPhone 6 Plus under the same test conditions.
SquareTrade tested three smartphones side by side in an attempt to find out how easily they bend and break. The devices in question are the Apple iPhone 6 Plus (the smartphone at the center of the famous "
Bendgate
" scandal), the Samsung Galaxy S6 edge, and the
HTC One M9
.
To test the smartphones, the company used what they refer to as "BendBots", robots that detect how much pressure a smartphone can handle before bending and breaking. SquareTrade claims that the BendBots simulate the forces that occur when a person sits down with a smartphone in their back pockets.
The video that we've reposted below shows that it takes 110 pounds of pressure to bend the iPhone 6 Plus, which is the exact same force required to bend the Samsung Galaxy S6 edge. However, although the iPhone 6 Plus only shows a bent chassis, the display on the Galaxy S6 edge cracked exactly on one of the curved edges. Both smartphones worked at this point.
By gradually increasing the pressure, the company found out that it takes 179 pounds of force to render the iPhone 6 Plus useless, while the Galaxy S6 edge was completely shattered at 149 pounds.
Wondering how the HTC One M9 fared in this bend test? As it turns out, the aluminum chassis of the new HTC flagship can take 120 pounds of force before bending. Unfortunately, once the chassis bended, the power button snapped, rendering the One M9 useless.
In the past week or so, we've seen a few videos which prove that the Gorilla Glass 4 on both the front and the back of the S6 edge holds up extremely well
against scratches and drops
. Unfortunately for Samsung, it looks like the situation may be a bit different when it comes to bending the smartphone.
source:
SquareTrade