Samsung Galaxy S5 vs Oppo N3 vs Oppo R5: specs comparison
3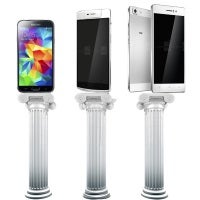 Anyway, the razor-thin Oppo R5 isn't the only gemfeat of engineering Oppo announced today.
It also introduced the Oppo N3
, a first of its kind smartphone with a motorized rotating camera, a multi-purpose fingerprint sensor, and lighting-fast charging. It's a very interesting device, if not one that will find mass appeal.
Did someone say mass appeal? Let
the Samsung Galaxy S5
enter the stage. It's one of the best-selling Android phones in the West this year, and as Samsung's smartphone flagship, it has come to define the Android phone experience for a huge chunk of users. Comparing Oppo's forward-looking creations with Samsung's conservative, "better please everybody" product puts a wider, and interesting perspective on how different Android phones can be. What do you think?
Scratch-resistant glass, Ambient light sensor, Proximity sensor
Scratch-resistant glass, Ambient light sensor, Proximity sensor
Ambient light sensor, Proximity sensor, Scratch-resistant glass
Qualcomm Snapdragon 801 MSM8974-AC (28 nm)
Qualcomm Snapdragon 801 MSM8974-AA (28 nm)
Qualcomm Snapdragon 615 8939
Quad-core, 2500 MHz, Krait 400, 32-bit
Quad-core, 2300 MHz, Krait 400, 32-bit
Octa-core, 1500 MHz, ARM Cortex-A53
Adreno 330
Adreno 330
Adreno 405
Android (6.0 Marshmallow, 5.1 Lollipop, 5.0 Lollipop, 4.4.4, 4.4.2), Samsung TouchWiz UI
Android (4.4), OPPO ColorOS UI
Android (4.4.4), OPPO ColorOS UI
21.00 hours
the

average

is 17 h (996 min)
16.2 days (390 hours)
the

average

is 20 days (472 h)
21.00 hours
the

average

is 19 h (1110 min)
Single camera
Swivel
Single camera
13 MP (Autofocus, BSI sensor)
Aperture size: F2.2; Focal length: 31 mm; Sensor size: 1/2.6"; Pixel size: 1.12 μm
Aperture size: F2.2
Aperture size: F2.0
3840x2160 (4K UHD) (30 fps), 1920x1080 (Full HD) (60 fps)
1920x1080 (Full HD) (60 fps), 1280x720 (HD) (120 fps)
1920x1080 (Full HD) (30 fps), 1280x720 (HD) (120 fps), 720x480 (DVD)
HDR, Continuous autofocus, EIS, Video calling, Video sharing
Video calling
5.59 x 2.85 x 0.32 inches (142 x 72.5 x 8.1 mm)
6.35 x 3.03 x 0.34 inches (161.2 x 77 x 8.7 mm)
5.86 x 2.93 x 0.19 inches (148.9 x 74.5 x 4.85 mm)
5.11 oz (145.0 g)
the

average

is 6.5 oz (184 g)
6.77 oz (192.0 g)
the

average

is 6.5 oz (184 g)
5.47 oz (155.0 g)
the

average

is 6.5 oz (184 g)
Fingerprint (swipe)
Fingerprint (swipe)
Touch sensitive control keys, Interchangeable covers, Notification light