Samsung Galaxy S5 vs HTC One (M8): preliminary comparison
99+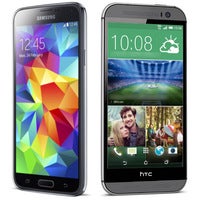 If we had to make a list of the most highly anticipated smartphones right now, then the Samsung Galaxy S5 would probably stand right at the very top of it. The handset is expected to sell by the boatloads once it is released in April, landing in the pockets of both loyal Samsung followers and anyone looking for a capable high-end Android device. But the competition is definitely not going to just stand and watch. Samsung's latest and greatest Android phone will have to face a number of tough opponents on its way to commercial success, and one of the toughest among them will be the HTC One (M8).
Design
On the downside, the new HTC One will be slightly thicker and heavier than the Samsung Galaxy S5. The former has a thickness of 0.37 inches (9.35 millimeters) and weight of 5.64 oz (160 grams), while the latter is 0.32 inches (8.1 millimeters) thick and weighs 5.11 oz (145 grams).
On the other hand, the front of the HTC One (M8) will be graced by a pair of BoomSound speakers, which will deliver high-quality stereo sound. The Samsung Galaxy S5 has just one loudspeaker, which is placed on its back. This could potentially make the new HTC One more desired by those who often listen to music from their smartphone, as well as those who enjoy watching videos and playing games on their handset.
Display
From the looks of it, smartphones sporting QHD displays are bound to go on sale before 2014 is out. In case you're wondering, 1440 by 2560 is the jaw-dropping pixel count behind this acronym. Both the Samsung Galaxy S5 and the new HTC One, however, come with 1080 by 1920-pixel displays. Should that bother anyone? Nope, absolutely not, since a 1080p smartphone screen is already detailed enough to produce more detail than our eyes can detect under normal usage conditions. Also, a higher-resolution display would have put more strain on these phones' hardware, which could potentially result in poorer performance and/or increased power consumption. That's why we're perfectly fine with Samsung and HTC launching flagships touting 1080p screens.
Now that we've gone over the similarities, it is time to highlight what could set the two screens apart. True to its traditions, Samsung has equipped the Galaxy S5 with a Super AMOLED display, which isn't that bad of a choice. People tend to like them for their vibrant colors and excellent viewing angles. HTC, on the other hand, is using a Super LCD 3 screen for its new One. The screen on last year's HTC One looked outstandingly, and guess what - we've already measured the One (M8)'s display, and it proved to be even better and more accurate! Overall, users will have to make a decision: whether to go for the more visually-stimulating colors of the Galaxy S5, or the punchy, but still true-to-life visuals of the One (M8).