Samsung Galaxy S5 users can protect their phone and double their battery life with Mophie Juice Pack
9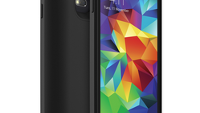 Samsung Galaxy S5
owners have a new accessory that not only protects their pride and joy from butterfingers, but also helps them get long lasting battery life for the handset. By now, you might have figured out that we are talking about the Mophie Juice Pack. Inside the protective case is a 3000mAh battery, even larger than the 2850mAh cell found inside the handset. The Juice Pack is available in black and white, with a smooth finish, making it a pleasure to hold.
There is no such thing as a free lunch, and in this case you are giving up some of the phone's slim looks in exchange for going as long as three days without having to recharge your phone. The Mophie Juice Pack is not cheap, which means that at $99.95, you have to decide whether making the purchase is worth it. After all, the Galaxy S5 does have good battery life on its own. And don't forget that Sammy's flagship handset already comes with Ultra Power Saving Mode. When turned on, the latter will give Galaxy S5 owners with 10% battery life, up to 24 hours of standby time on the device. Of course, your functionality is extremely limited.
If you decide to go with the Juice Pack, keep in mind that Mophie recommends turning on the spare battery once the stock cell on your handset drops down to 20%. You can check out a promotional video about the Mophie Juice Pack for the Samsung Galaxy S5, by clicking on the video slideshow below.
source:
Mophie
via
TechCrunch