Samsung Galaxy S4 mini hands-on
30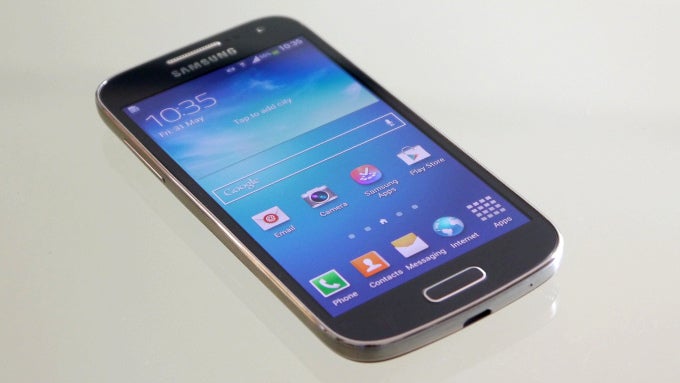 Sure, we all love big screens, but sometimes the trade-off between functionality and portability becomes too big. For many consumers out there, a 5-inch display is unnecessarily big, and a handset with a 5" display is simply too big. So, what are those customers supposed to purchase, if they want a snappy Android phone? Unfortunately, most of the middle-class Androids out there can't offer the necessary level of polish, or enough features in order to be appealing in the eyes of the demanding user. That's where the Samsung Galaxy S4 mini comes in. Not that it's necessarily a monster phone like the Galaxy S4, in terms of specs, but it does seem to pack quite a punch.
The Samsung Galaxy S4 mini retains an almost identical appearance to that of the Galaxy S4
. It's made of the same plastic material, and even sports the same exact dotted pattern, which gives it a somewhat more interesting look. It's a glossy, non-slippery type of plastic, which we definitely like, though it does feel a bit cheap compared to glass or metal.
Samsung has bumped the screen size from 4" in the S III mini, to 4.3" in the S4 mini
. It's an appreciated size increase, while the handset is still very easy to hold and operate with one hand only. Resolution is qHD, which means 540 x 960 pixels. It might be a bit disappointing for some that it's not HD 720p, but with a pixel density of 256 ppi, things are still pretty easy to read on the display. There might be some small jaggedness here or there, but it's nothing that could hamper the experience of using the phone.
In terms of OS, what you'll find on the Galaxy S4 mini is
Android 4.2.2
, so it'll be perfectly up-to-date right out of the box. Naturally, there's also Samsung's
TouchWiz Nature UX
, instead of the stock Android UI, along with the full suite of proprietary services, such as S Voice, S Health, S Memo, S Planner, Samsung Hub, Samsung Apps and so on. Samsung-made features such as Smart View, Air View and S Beam are also on board.
So, let's stop here for now, because we'll first have to spend some quality time with the phone before we can say anything with regards to the user experience itself. Stay tuned for our Samsung Galaxy S4 mini review!