Samsung Galaxy S4 MHL-to-HDMI adapter now available, no need for a separate charger
14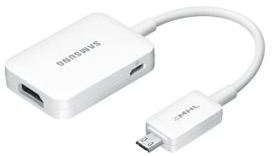 Samsung Galaxy S4
is
the first phone to support the MHL 2.0 standard
, meaning that HDTVs and monitors with such a port can charge the device and stream Full HD content down from it at once.
The official MHL/HDMI adapter is now out for the Galaxy S4, and lets you just hook a regular HDMI cable to the phone and then to your non-MHL TV across the room.
There is a microUSB port on the side of the new adapter, meaning that it will potentially be compatible with older members of the Galaxy family, too, which ask for a power adapter to be hooked up. The Galaxy S4 MHL-to-HDMI gear costs about $40 without the value-added tax in the UK, and, unlike the ten buck adapters you can currently find, doesn't require a separate charger to be plugged in.