Samsung Galaxy S3 Neo to be launched in India soon
30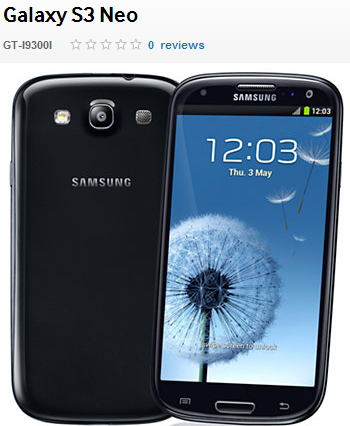 Yes, you read that title right: there's a Galaxy S3 Neo out there. In fact, we first spotted it a few months ago, but didn't report about it because we thought it was a China-only device. However, it isn't.
Samsung is now listing the Galaxy S3 Neo on its official Indian website, which means that the handset should be released there in the near future (and it might also be introduced in other markets).
As you've probably guessed, the S3 Neo (model number I9300i) is a refreshed
Galaxy S III
. It doesn't look different from the 2012 model, though, and most of its features have remained unchanged. What seems to be different is the processor: the S3 Neo has a quad-core 1.2GHz CPU of unknown provenience, while the original S III uses a quad-core 1.4GHz Exynos 4412, or a dual-core 1.5GHz Snapdragon S4 Plus. The S3 Neo also offers 1.5GB of RAM - not 1GB, like the international S III from 2012, and neither 2GB, like the US variant of the older handset.
The Galaxy S3 Neo is presented by Samsung India as "the most premium dual SIM smartphone" - thus, it supports two SIM cards. Samsung doesn't mention what version of Android the S3 Neo is running, but it's probably Jelly Bean, not KitKat.
Samsung suggests that the Galaxy S3 Neo will be available in India in seven color versions: black, white, blue, red, brown, pink, and silver. The handset's price is not known at the moment.
All in all, it's clear that Samsung just loves the Neo name, as it introduced quite a few devices that are using it this year, including the
Galaxy Note 3 Neo
, and the
Gear 2 Neo
smartwatch.
source:
Samsung India
via
FoneArena