Samsung Galaxy S10 may come with a cryptocurrency wallet, but what does this even mean?
5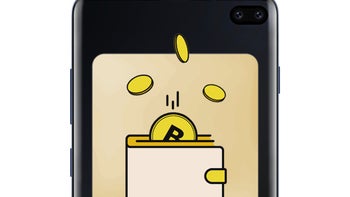 By this point in time, there's hardly anyone unaware of the existence of cryptocurrencies and blockchain technology. It was only about a year ago when Bitcoin's spectacular price boom – and subsequent nosedive – resonated across all corners of the media. Clearly, cryptos didn't end up replacing money as we know it, but they're still very much alive and accepted by adventurous businesses worldwide.

South Korea – Samsung's homeland – is one of the countries where cryptocurrencies have been particularly popular not only among investors, but among businesses as well. Bitcoin Cash, Ethereum, Litecoin are accepted alongside cash or credit cards at thousands of locations, including restaurants and coffee shops, kiosks and terminals, online and retail stores. That is why the rumors of Samsung integrating a cryptocurrency wallet into its upcoming Galaxy S10 phones comes as no surprise. But what exactly does this mean?
The Samsung Galaxy S10 cryptocurrency wallet: explained
A couple of weeks ago, leaked images posted online revealed that the Samsung Galaxy S10 may come with a feature called Samsung Blockchain KeyStore. The leak's credibility is further backed by a trademark filed by Samsung with the USPTO. In it, "Blockchain KeyStore" is described as
"software for use with mobile devices and smartphones, namely, software for the storage and management of private keys to authenticate blockchain transactions."
And judging by leaked screenshots of the feature, it is expected to let users create cryptocurrency wallets or import existing ones on their Galaxy S10 phone. Leaks point at Ethereum as the only crypto supported by Samsung Blockchain KeyStore, but the list may expand over time, we assume.
But what does it mean to have a cryptocurrency wallet on your Galaxy S10? Will you be able to mine Bitcoin on your phone and become rich overnight? No, of course not. A crypto wallet is simply what you need to own, receive, or spend cryptocurrency. It contains what are called the public keys and the private keys for the cryptocurrencies that you own, and these keys are basically long strings of code. A public key you can share with the world, as it is what others would use to send you cryptocurrency. Your private key, on the other hand, is used for spending your crypto, and it must be guarded carefully. Should your private key end up in the wrong hands, you can wave your cryptocurrency goodbye. Because of this, we expect Samsung's cryptocurrency wallet to take security seriously.
Some cryptocurrency wallets are called "hot" wallets. This is another way of saying that they're always connected to the internet, with the private keys often stored on a third-party server. Spending the cryptocurrency on these wallets is easy, but they're considered relatively unsafe. According to the guys at
SamMobile
, Samsung's Blockchain KeyStore service will integrate a "cold" wallet, where keys are stored offline for greater security. The wallet will go online only when that's needed – and only after the owner's permission. We assume Samsung is planning on using the Snapdragon 855's Secure Processing Unit to keep cryptocurrency data isolated and secure, but also safely accessible when required.
How will I spend cryptocurrency with the Galaxy S10?
Details are scarce at this time, but it is safe to assume that Samsung will require user authentication for every transaction, be it by asking for a PIN or a scan of a fingerprint. On a related note, the Galaxy S10 is expected to abandon the iris scanner found on previous high-end Galaxy phones in favor of a fingerprint scanner built into the display.
It isn't clear where exactly you'll be able to spend the cryptocurrency via your Galaxy S10. We assume businesses accepting cryptos will have no issues accepting such payments at retail locations, but we'd expect online payments to be also possible, as well as peer-to-peer transfers between individuals.
What happens if I lose my Galaxy S10?
That's an excellent question! As we mentioned above, if someone gets a hold of your private key, they can steal all the cryptocurrency that you own. Thankfully, having it stored on the Galaxy S10's Secure Processing Unit would make it impossible for a hacker to obtain your keys. Unless they also have your PIN and/or fingerprint, we suppose.
That's nice and all, but you're probably wondering how you'd be able to get your crypto back in case your Galaxy S10 gets lost or stolen. Thankfully, recovering a private key is possible, and many wallets let you do this by entering a long chain of words. This mnemonic phrase, as it is called, can be between 12 and 24 characters long and is generated when your wallet is created. The phrase can be then written down on a piece of paper and stored somewhere safe. According to the aforementioned report by SamMobile, this method will be used by Samsung's Blockchain KeyStore service as well.
More Galaxy S10 rumors and leaks: