Your Samsung Galaxy S10 battery will last longer with a Mophie juice pack case
4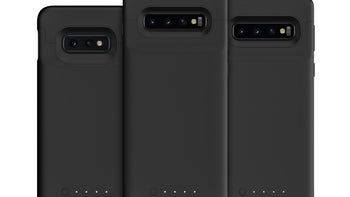 Samsung's brand new
Galaxy S10e
,
S10
, and
S10+
phones all feature pretty generous batteries (3100 mAh, 3400 mAh, and 4100 mAh, respectively), but more battery power is always welcome. With that in mind, Mophie - a popular US-based maker of smartphone accessories -
announced the upcoming release
of battery cases for each of Samsung's three flagship handsets.
The new battery cases are part of Mophie's "juice pack" series, which also includes cases for older Samsung phones like the Galaxy Note 9 and Galaxy S9. The cases have many common features: support for wireless charging, USB Type-C ports, standby/status buttons, raised corners for screen protection, and rubberized interiors for high-impact protection. These cases also come with what Mophie calls "Charge Vault Technology" - this enables them to store power for prolonged periods of time. Another common feature is priority charging, which allows your phone to be fast-charged first when connected via USB Type-C, with the case itself being charged after.
The Mophie juice pack cases for the Galaxy S10e and Galaxy S10 each include 2000 mAh batteries, while the case for the larger Galaxy S10+ comes with a 2,525 mAh battery. These capacities should be enough to boost your S10's battery life by at least 50%.
At the moment, the dimensions of Mophie's new Galaxy cases are not known, so we can't really tell how thick your phone will look with them on. The fact that Mophie shared just one image of the cases showing them from behind (as seen above) doesn't help much in this regard.
Priced at $99.99 a piece, the Mophie juice pack battery cases for Galaxy S10e, S10, and S10+ will be released stateside sometime in the second quarter of the year (thus not sooner than April). Until then, Samsung could very well launch its own battery cases for the Galaxy S10 series - we'll let you know when/if that happens.