Samsung Galaxy S to be T-Mobile's Vibrant?
This article contains unofficial information.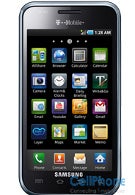 Just like
AT&T took the Samsung Galaxy S and made it the AT&T Captivate
, T-Mobile also will be able grab customers seeking a high-end Android model with its Galaxy S variant allegedly named the T-Mobile Vibrant. The Vibrant is
expected to launch
on July 21st and more details are expected at next week's Samsung press event. Each of the four top U.S. carriers are supposed to have a Galaxy S in their line-up with Sprint apparently
turning the Galaxy S Pro into its next 4G enabled phone
. For those who might not remember, the Galaxy S has a Super AMOLED 4 inch touchscreen display and is powered by a 1GHz Hummingbird chip made by the Korean based firm. With its rapidly spreading HSPA+ network, T-Mobile customers should have 4G-like speeds with the Vibrant. T-Mobile's version does away with the touchpad and replaces it with 4 capacitive buttons. The back of the phone has a similar design to that of AT&T's Captivate, but will not have a flash for the camera like the "Pro" version has. Expected on board at launch is The Sims 3 game, the movie Avatar, Amazon Kindle, GoGo in-flight internet service and an HD camcorder. And just like that, it appears that the nation's fourth largest carrier has a competitive Android SuperPhone in what increasingly is becoming a sizzling hot cellphone summer.
Samsung Galaxy S Specifications
|
Hands-on
source:
CellPhoneSignal