Samsung Galaxy S III vs Nokia Lumia 920: touch sensitivity test (video)
51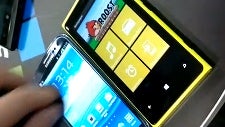 Nokia has seriously stepped up its trash talk after the announcement of the
Lumia 920
and we've seen numerous comparisons of the new Windows Phone 8 flagship device against Samsung's Android flagship the
Galaxy S III
. First, optical image stabilization and low light performance is noticeably better on the Lumia 920 against both the Galaxy S III and the iPhone 5.
Now, Nokia has allowed a user in Russia to test out the
touch sensitivity of the display on the Lumia 920
and compare it to the Galaxy S III. We imagine that in Russia's freezing climate the possibility to use a phone with gloves on would be highly appreciated.
Not surprisingly, the Lumia 920 lives up to the hype and impresses as even with a folded glove, it was still able to detect touches and taps, while the Galaxy S III screen stayed idly without responding.
Nokia is using Synaptics technology for that magic to happen and honestly we'd love to see that arrive on other smartphones as well.
source:
WP7Forum
via
Nixanbal