Samsung Galaxy S III placeholder tops AnTuTu benchmark charts
43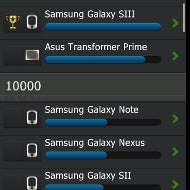 Invalid image meta
A new device has topped the AnTuTu Android benchmark software ranking list chart, taking over the Transformer Prime with the quad-core Tegra 3.
The device info section uses a popular render of the SGS3 for a picture placeholder, and lists the processor as a 1.4GHz Exynos 4212, which is the fishy part, as
Samsung just made the quad-core 4412 official
and said it will go into the "next Galaxy" in May.
The other specs are a 4.7" HD display, and 12MP camera, which coincide with
Amazon Germany's preorder listing for the phone
, so we more or less know what's shaking for the May 3 announcement. The big question mark is design, and Samsung is so tight-lipped about it, that we suspect torture chambers being set up in the HQ basement for any tester that leaks the final ceramic looks.
Thanks, KJ!