Samsung Galaxy S III not compatible with previous MHL-HDMI adapters, requires new one
31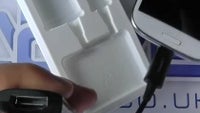 Let's skip the introduction - you already know that the Samsung Galaxy S III is practically the most powerful mobile device to come out yet. It's amazing, but we appreciated also the fact that it came with a removable battery, expandable memory via microSD card slots and a simple MHL microUSB port for chargin. We can go on and on with the great things about the Galaxy S III, but the way it connects to an HDTV (and you'd want to connect this phone to an HDTV, trust us) is not one of them.
Actually, the way Samsung handled this is horrific - we don't know the exact reason, but it turns out now that the SGS III requires a special MHL adapter. First, an explanation. MHL is the port on the bottom of your device that acts as a gateway for both charging the device and connecting it to external displays. For the latter, you need an MHL to HDMI adapter, a simple dongle that allows you to further connect to an HDMI cable and a TV/monitor.
All good so far - we've seen the same mechanism work in the Galaxy S II, we've bought the MHL adapter, and now we're happy that we can use this in the SGS III... not. UK retailer Clove who just got the new MHL-HDMI adapter explains why:
"Any previous MHL adapter will not work with the S3 due to the pin layout."
It's not a huge deal as the adapter itself costs £24.98 including tax (that's $39), but it's annoying. And maybe there's a reason for that, but we honestly don't know it. You can help us with an explanation and/or
thank
Samsung in the comments below.
Also below is a link to Clove's web store, in case you want to order your adapter. Note, that if you want to hook up your SGS III to a non-1080p monitor/TV, you might run into problems: