Samsung Galaxy S III gets 30Mbps 1080p video thanks to a software tweak
15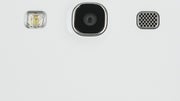 If you have a rooted
Samsung Galaxy S III
, here is a neat trick that you might want to check out, especially if you are into shooting videos. Custom ROM maker
hyperX
has developed a software modification that allows superfine
1080p video to be captured at 30Mbps
, thus theoretically increasing its quality even further.
Those who find that a bit of an overkill can select the 24Mbit fine mode, or the normal 1080p mode at 19Mbps. In addition, the 720p video modes have been tweaked, so superfine footage is captured at 19Mbps, while the fine and normal settings adjust the bit-stream to 15 and 10Mbps respectively. No matter what mode you pick, audio is recorded at 192kbps. If that is not enough, the developer is working on enabling 60fps video with his mod, although his efforts have been unsuccessful so far.
The modification adds a few minor tweaks as well, such as the ability to launch the camera during calls, and to take photos while shooting video by pressing the either of the volume keys. Interested? Then follow the source link below to learn how you can add these goodies to your Samsung Galaxy S III. Be aware, however, that the procedure is not for novice smartphone users and it might void your warranty, so proceed only if you know exactly what you are doing.