Samsung Galaxy S III ads are here, but the phone is not just yet
29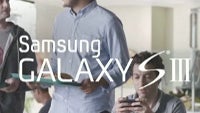 The
Samsung Galaxy S III
is the most massive Android smartphone launch the United States has ever seen, arriving on five carriers at almost the same time. In recent days, however, the stress has moved from
same
to
almost
as Sprint has now officially announced a delay for the device, AT&T and Verizon are still only offering pre-orders, and basically
the only carrier offering the phone is T-Mobile
. The smallest of the big four carriers is selling for $280 on a two-year contract and after rebates.
But while the carrier situations is still being worked on - and it's possible that an exploded Galaxy S III might only contribute to the delay - the first ads are already out for the S III in the United States.
The first one focuses on the SGS III being the next big thing that's already here and the second centers around the pop up play function that allows you to take your multitasking to the next level and say watch a movie and text at the same time.
source: SamsungMobileUSA