Samsung Galaxy S III: S Beam feature demo
5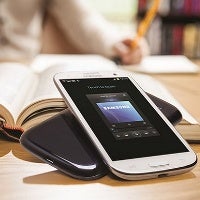 The Samsung Galaxy S III decided to augment the standard Ice Cream Sandwich experience, and one of the features it took on was Android Beam. What makes it different is that it not only relies on slowish NFC for transfers, but it can also use the speedy Wi-Fi Direct, for almost instant transfer of large files like videos.
So basically,
S Beam
works just like Android Beam - you tap the two phones, hold for a second until the tap is registered, and then tap on the file you want to share. The other party has to accept the transfer and that's it. No pairing, no lengthy setup, you're off with the transfer and you can watch/play/open the file right away.
Samsung says that S Beam will allow Galaxy S III phones to exchange a 1GB movie for three minutes and a 10MB music file for two seconds, and it all works even without a Wi-Fi or cellular signal. Now, those speeds are achieved using Wi-Fi Direct, but if you look at NFC transfers, it's much slower and in reality is closer to Bluetooth speeds. If the person you send a file to doesn't have Wi-Fi on, S Beam will be smart enough to turn it on for the transfer and off when it's done.
The bad news? S Beam
pairs only Galaxy S III phones
, and no others, so compatibility is pretty limited. We've tried the feature in London, but couldn't quite get it to work - still here's a video of our attempt and the S Beam interface.