Samsung Galaxy S II shows off some gyroscope-enhanced features (video)
8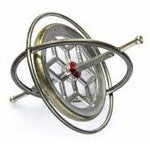 Gyroscopes are amazing little gizmos! There was a time when they were a technology usually reserved for compasses and airplanes, but lately gyros have started
appearing
in consumer electronics as well. The Samsung Galaxy S II is one of those devices, which boast a gyroscope under their hood, and we just got treated to a video demonstration of what it can be used for besides steering your virtual car when playing video games.
As we have been already informed, the Samsung Galaxy S II will ship with the manufacturer's new and shiny
TouchWiz 4.0
skin added on top of Android 2.3 Gingerbread. Besides running smoothly and looking pretty, the latest version of Samsung's interface will also make use of the smartphone's gyroscope in a quite innovative way. Touching the device's display with two fingers now enables zooming in and out while surfing the web – bringing the Samsung Galaxy S II up closer to the user's eyes zooms in and moving it away zooms out. You have to see the video below to get a clearer idea how seamlessly this works even though the feature will be polished even further prior to the smartphone's launch.
Another use for the gyro that was demonstrated on the Galaxy S II was the ability to drag widgets through different home screens. Moving the phone left or right while dragging a widget will now switch between screens making it easier to arrange widgets according to your taste.
For now the zooming gesture only seems to work while browsing the internet, but there shouldn't be a reason why the functionality could not be incorporated in other apps such as photo galleries, for example. Feel free to check the embedded video out, and if you happen to have better ideas than Samsung's, do not hesitate to share them with us in the comments below!
source:
Android Community
via
Engadget