Samsung Galaxy S II for Sprint to be called Epic Touch 4G
64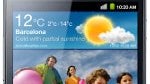 The Samsung Galaxy S II is surely on its way to the states in the coming weeks and now it is known that the Sprint version of the highly-regarded Android smartphone will be called the Epic Touch 4G.
Despite being given the Epic name, the addition of the word touch suggests that this device will not feature a QWERTY keyboard. The predecessor to this device, the Samsung Epic 4G, was the only one of the original Galaxy smartphones to feature a physical keyboard. Just like the original Epic, it will have 4G WiMAX on-board.
It appears that the Samsung Epic Touch 4G will be launching sometime in September but an official release date and pricing are still not known. But hey, at least we know what it's going to be called. Tell us what you think in the comments below.
source:
BGR