Samsung Galaxy S 4 vs Apple iPhone 5: first look
73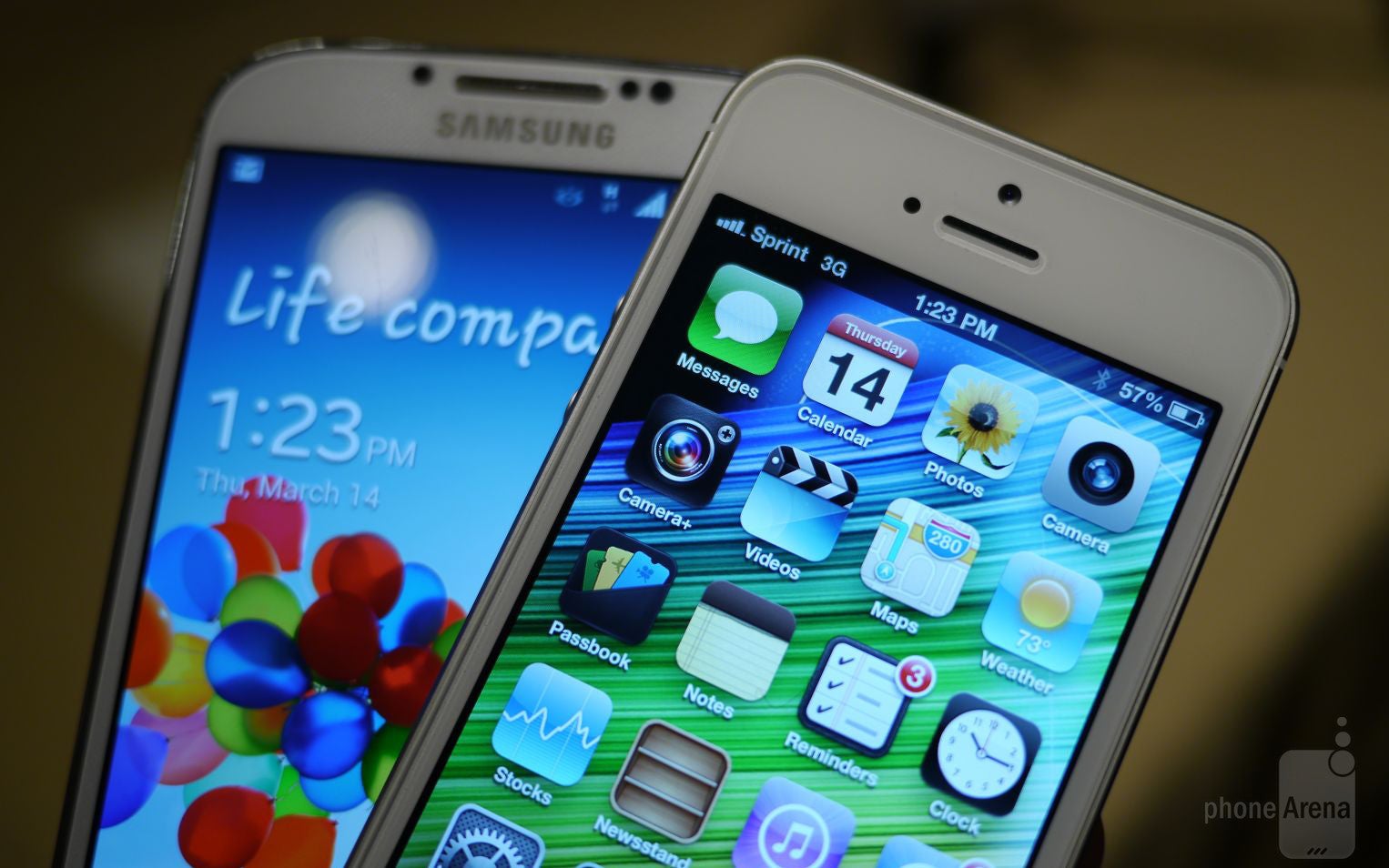 Well hello there Samsung Galaxy S 4! Meet your fellow competitor in the well-established Apple iPhone 5. Surely, we all know that there's been a fair amount of history between these two companies, as they're continually vying for supremacy in the smartphone kingdom. For the most part, bad blood has fueled these to behemoths to keep their respective flagship devices in constant competition against one another, so it's no wonder why we're giving you the first look in how these two snazzy smartphones stack up to one another.
Design
First, let's talk about design. Generally speaking, devices with metal bodies tend to be favored highly over ones with plastic – so there are no surprises that the iPhone 5 just simply feels and looks like the more premium device between the two. Indeed, the all-plastic chassis of the Samsung Galaxy S 4 gives it a featherweight-like feel in the hand, but it simply lacks the impeccable construction of the iPhone 5's brushed aluminum casing. On paper, the size and weight of the Samsung Galaxy S 4 is impressive as it measures in at 7.9mm thin and 130 gr in weight, but Apple's prodigy is a smidgen lighter and thinner – to be fair, the Galaxy S 4 is packing a significantly larger display. Overall, the small design change with the Galaxy S 4 aren't enough to keep our eyes off the iPhone 5's premium construction.
Display
Going bigger has always been the formula with everyone, so it's no surprise that Sammy is pushing the boundaries with the Galaxy S 4. Between the two, we can't help but fall more in love with the Galaxy S 4's 5-inch Full HD (1080 x 1920) Super AMOLED display, which simply looks super crisp up close and personal over the iPhone 5's 4-inch 640 x 1136 Retina Display. In fact, the amount of sharpness and detail evident in the ginormous display is evident, but more importantly, the quality elements about Super AMOLED in general gives it the much-wanted wow factor. Sure, its colors are punchy, viewing angles are stupendous, and its sheer luminance can light up a room, but we're curious to see how it handles outdoor conditions.
Software
Now this is where Samsung is truly beginning to separate itself, seeing that they're redefining the way we're interacting with our devices. Of course, iOS on the iPhone 5 continues to be the more simplistic experience between the two – giving smartphone newbies an easier grasp in understanding the platform. However, it's lagging behind what Samsung is doing with the updated TouchWiz Nature UX experience on its Galaxy S 4. With its new floating display technology, which gives us S-Pen like qualities with our own fingers, it opens up a whole new level of interaction that the iPhone 5 simply can't offer. Furthermore, Sammy goes all out by offering a wide array of new air gestures that deliver yet another level of interaction that's unmatched. Without going into detail, there's no denying that the Samsung Galaxy S 4 blows away the iPhone 5 out of the water when it comes to the software experience. From its insane amount of camera-centric features to other novel things like its new Life Care hub that monitors our health, Samsung is rapidly widening the gap in this category.
As much as we'd like to give everyone some concrete advice between the two handsets, we can't fully judge them until we get our hands on a final consumer ready model of the Galaxy S 4. Who knows what the outcome will be when we get the opportunity to see how they compare in all integral categories, but one thing is certain, Samsung isn't holding back from distancing itself.