Samsung Galaxy Round could be announced this week, first smartphone with flexible display
13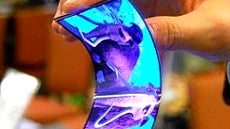 Korean media is reporting that Samsung might announce its curved display smartphone as soon as this week, with the tentative name Galaxy Round,
beating LG the punch
. It is aimed to be the first commercially available phone with a plastic, instead of glass substrate, meaning the panel is much more durable, and will, ultimately, be cheaper to produce. For more information on this type of screens you can read our
interview on flexible display technologies
.
The specs are expected to be close to what we have on the
Galaxy Note 3
, which explains why there were so many rumors we will get
different versions of Samsung's phablet
, including one with plastic display. Our Korean is pretty rusty and the automatic translations don't make it very clear how much the Galaxy Round will cost.
From what we've grasped they have been mulling a steep price, since it will be produced in limited quantities, although if the screen didn't support Samsung's S-Pen functionality there is a possibility for the tag to be much lower. In any case, if this report is correct, we will be seeing the Galaxy Round officially very soon, likely heading to Samsung's domestic market at first.