Samsung Galaxy NotePRO 12.2 hands-on
14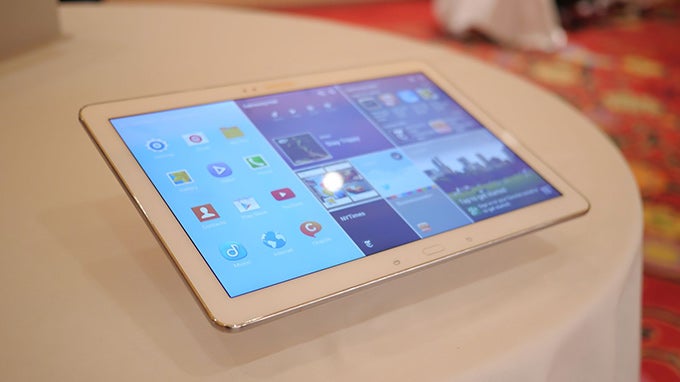 Samsung just can't get enough of its highly productive Note series, seeing that CES 2014 is yielding the latest member in this beloved line. Currently, the
Samsung Galaxy Note 3
and 2014 edition of the
Galaxy Note 10.1
have been making quite a stir in the space, as the two devices are giving productive conscious users something to be happy about using on a daily basis. Now if the 10.1-inch version isn't tablet enough for you, then the newly outed Samsung Galaxy NotePRO will surely get you drooling with its monster sized 12.2-inch display. Now don't think for a moment that this is merely a larger sized version, especially when Samsung has enhanced several things to give it more of a PC-like quality to it.
Design
Meh. For something sporting a total new model name, the Galaxy NotePRO 12.2 doesn't try to do anything new or daring with its design. Instead, it decides on employing the same exact design characteristics we've seen already with the current line of Note devices. Relying on the same faux-pas leather like chassis, which is accented by its stitch pattern around the edges, it continues to give the tablet a sophisticated look. Just like the Note 3, the NotePRO 12.2 will be available in black or white, where the black version has more of a profound leather-like feel – whereas the white one is more subtle. Regardless, the two sport very clean finishes and aren't prone to getting dirtied by smudges or fingerprint.
Indeed, there's more tablet with this model, due to the larger display and all, but at least its weight is manageable. In the back of our head, we were hoping to see at least some changes with the design – or maybe move up to more premium choice materials instead, as opposed to the same plastic body we've been accustomed to seeing. With the "Note" moniker in its name, it packs along an S-Pen along the top right corner, giving us the same features and interaction we've received with the previous Note devices.
Display
Holy smokes people! Samsung has been quite the aggressive one here, since the Galaxy NotePRO 12.2 is sporting a high-resolution 12.2-inch 2560 x 1600 (WQXGA) display. We know folks, our jaws literally dropped upon hearing that high resolution figure, which undoubtedly gives the tablet a ton of detail and clarity. Heck, it's almost hard to even meticulously make out any of the pixels in the there. Throw in the fact that it's sporting a high contrast and brightness output, it seems as though it'll handle outdoor situations very well – meaning, it might not be something that requires shielding away from the sun. Colors are nice a vibrant too, which really helps to accentuate the display's overall beauty.
Beyond the mind-boggling screen resolution, there isn't anything else new with the display here. Yes, the S-Pen is used to track and hover, giving us a more precise way of interacting with it, but beyond that, there isn't much else that we've seen already in the past.
Interface
Well now, Samsung also manages to enhance the software experience in the Galaxy NotePRO 12.2 – by a whole lot, that is. Upon looking at it for the first time, some would probably think that they've gotten rid of TouchWiz entirely, as the homescreen is now sporting Sammy's new Magazine UX experience, which has a very Flipboard-esque presentation. To be exact, the homescreen is littered with all of these boxy panels that can be arranged in a variety of ways – though, there's still access to the usual Android homescreen we're familiar with. It's hard to say with enough certainty right now if we like it or not, but we suppose we'll know exactly as time passes with us using it.
Windows 8 tablets in general seem to offer more of a productivity element over Android tablets. However, as we've seen already, Samsung has been one of the many forces in the Android space to enhance the experience by giving its tablets a very real multi-tasking aspect. Following up on Sammy's "Multi-window" feature, the Galaxy NotePRO 12.2 features an even more enhanced version – one that allows us to use up to 4 apps simultaneously. No doubt it gives us more control in what we interact with, but seeing that it's still early in development, the listing of supported apps are still slim pickings, but you can bet that Sammy will be quick to diversify it.
And finally, the last piece to the updated experience is found in the on-screen keyboard. Again, we're noticing a shift where it's trying to compete with full blown Windows 8 tablets. The layout is spacious, due to the massive size screen no doubt, but Samsung has given the keyboard a very PC-like execution. For example, we can hold down the shift button and use the directional keys to highlight things, or even perform copy/paste functions by executing the appropriate Ctrl C/V functions.
Processor and memory
Samsung states that the tablet will be available in two forms, an international GSM version that'll be powered by an Exynos 5 chip, and another 4G LTE version powered by a Qualcomm Snapdragon 800 SoC. It wasn't clarified which version we were looking at, but regardless of that, the performance seems top-notch – though, we notice swipe animations in the homescreen aren't as fluid or snappy as we'd like. Well, it's not the first time we're hearing about lag or stutter movements with the performance of a Samsung Android powered device. Frankly, the performance is accepting enough for us to swallow. Then again, you've got to really think about how taxing it is on the tablet to execute or handle 4 apps simultaneously.
Camera
Considering that it's a tablet that we're dealing with here, we're not too bummed to know that the Galaxy NotePRO 12.2 isn't a monster in this particular category. Packing an 8-megapixel rear camera with LED flash, and a 2-megapixel front-facing one, neither really screams cutting edge – more so when its video recording is maxed out at 1080p. Now it would've been dandy if this offered 4k video recording, but frankly speaking, it's not something we'd expect to find on a tablet over a smartphone.
Expectations
After playing around with the Samsung Galaxy NotePRO 12.2, it got us really thinking about the company's intentions. To us, it seems as though the tablet is trying to bridge the gap that prevented Android tablets in general to triumph over Windows based ones – giving it a distinct PC-like feel in the process. Obviously, it's very evident with its enhanced multi-tasking experience, where we're able to juggle up to 4 apps simultaneously. Ultimately, its success will hinge on pricing, which isn't being made public at the moment. Rather, Samsung mentions that it's slated to release sometime in Q1 2014. Now if Samsung wants to be aggressive, it'd be nice to see this one price near or around the $500 mark. However, if they choose to go the other way, and give it a price point $700 or higher, it might prove to be too much to sway consumers from sticking with a Windows-based tablet.