Samsung Galaxy Note to start selling in UK Q1 of 2012, US launch coming later on
26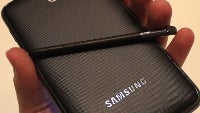 It's not the best news for all who are eagerly awaiting to snap one of the most intriguing handsets the mobile industry has come up with, namely the supersized
Samsung Galaxy Note
, but Samsung representatives have said that we will have to
wait until Q1 of 2012 to see the phone hit the shelves in the UK
. The US launch is supposedly coming afterwards, but we didn't expect anything else, considering
all the wait for the Samsung Galaxy S II
.
So, unfortunately, anyone who planned to grab this thing for the holidays, will have to sit tight, or get lured by something else, although nothing quite matches the Galaxy Note's concept currently.
SlashGear managed to fondle the handset a bit more, and noted that most Android Market apps just stretch and fit the handset's insane 800x1280 HD resolution, instead of showing in a window on the phone's 5.3" display, which is one possibility that took away from our sleep at night so far. The reviewer also noted that Samsung's proprietary S Pen capacitive stylus technology seems to be pretty spot on while you are drawing,
not spilling ink or lagging behind the tip
.
This is reassuring, not to mention that Samsung still doesn't have final software on the Galaxy Note sample units. Precisely because of that, they didn't let the reviewer run synthetics like Quadrant, but the SunSpider browser test had returned 2894.4ms, better than the Galaxy S II result of 3584.3ms.
All we can say is that a Samsung Galaxy Note engineering unit can't come soon enough to the office for us to handle and relay to you all the nitty-gritty about this exceptional handset.
Recommended Stories