Samsung Galaxy Note makes the stylus count in a brilliant user-created ad
20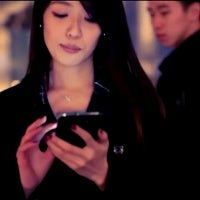 The
Samsung Galaxy Note
is a unique device - with its
5.3
-inch display it cannot go unnoticed, but if you somehow missed the big stylus-equipped phone, here's the perfect opportunity to know what it's all about. A fan-made video looking much like professionally shot footage by Samsung is probably the best marketing for the Galaxy Note with its artistic affections.
With music by The Chemical Brothers, the whole video unveils around a robbery - a young man snatches a girl's bag and tries to run away. Spoilers start here: it all ends up with a chase and the girl drawing a picture of the robber on her Galaxy Note. Next is a tech-savvy police officer who somehow gets the picture on Facebook and finds the man with the bag. It's not realistic but it's fun, immersive and dramatic. It also ends up with a curious twist, but we wouldn't want to reveal the whole thing so why don't you take a look at it below.
The movie, said to be made by iris and peter, could (and in our opinion should) get Samsung's attention. Do you think it's worthit? Let us know below.