Samsung Galaxy Note Jelly Bean update confirmed, but instead of buttery smooth Android you'd get... "Project Buffer"
15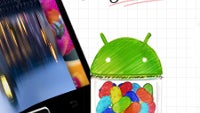 The Samsung Galaxy Note single-handedly created the phablet category, but the 5.3-inch device now looks a bit dated as it runs on Ice Cream Sandwich and not the latest Jelly Bean. That's about to change, though.
Jelly Bean is expected to smoothen out the animations on the Galaxy Note and get it rid of the slight lag you can notice now. That feature is "Project Butter," but funnily enough Samsung - being Korean - just had to mess up the name. Things take an ironic turn with this typo as instead of "butter" Samsung - on its official website - promises "Project Buffer." At least we hope it's a typo!
Samsung has also confirmed that its original Galaxy Note will get bumped up to Android 4.1 Jelly Bean and get signature features of the Note II like multi-window applications and Air View.
Those all come as part of Samsung's Premium Suite, and allow for a more productive experience on the phablet. The Air View feature allows users to simply hover over an image, email or something else with the S Pen and get a peek into the contents of that file. In addition, you'd also be able to crop and paste images easily on the phablet, just as on the Note II.
Google Now with its automatically displayed cards will also come as part of the update.