Samsung Galaxy Note III may support 4K video recording
37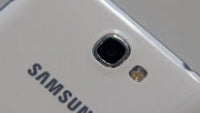 The big push in TVs right now is towards 4K Ultra HD. Of course, it's hard to get people to buy a 4K TV if there isn't that much media that can be viewed on said TV. There are of course 4K Blu Ray movies coming out, but it is always nice if you can create your own content for your new 4K TV. Maybe that would mean buying a fancy new camera, or if rumors are true, it will mean buying a Samsung Galaxy Note III.
The Korea Economic Daily
has reported that the Galaxy Note III will let users record video at 4K resolution (3840 x 2160 pixels), and it may also offer 24-bit/192KHz music playback. Obviously, the 24-bit/192KHz music playback could be a very nice feature for the audiophiles out there, but it's unclear how useful it will be for users to record 4K video.
Not only would most users be unlikely to have a 4K TV to watch said videos, a 4K video would take up quite a lot of space, and Samsung mobile devices already have a lot of their internal storage taken up by the TouchWiz bloat. We're sure that 4K video recording will make its way to mobile devices eventually, but this might be jumping the gun a bit.