Samsung Galaxy Note II mod adds 256GB storage, much more battery life
21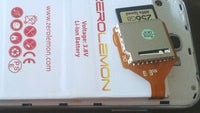 What would you do to add extra battery life and storage capacity to your smartphone? Are you willing to, let's say, sacrifice some of the portability and sexiness of your handset? This XDA-Developers member surely would, and you might be surprised by the benefits he got in return for his cash and effort.
The smartphone that you see in the photos below – a dual-SIM version of the
Samsung Galaxy Note II
sold in China, has been equipped with a much larger battery made by a third-party manufacturer known as ZeroLemon. With a capacity of over 9000mAh, this new cell would drive the device about three times longer than the stock battery would.
But that's not all. Behind the replacement back cover for this Galaxy Note II is tucked another modification, namely a microSD to SD card converter. After outfitting a 256GB SD card into the device, its owner now has 288GB of storage at his disposal – enough to store gazillions of photos, thousands of music albums, and days' worth of HD video.
This pimped Samsung Galaxy Note II is now much thicker and heavier, however, and it surely doesn't look as nice as it once did. Besides, the 256GB SD card and the beefier battery must have been costly to obtain, so the total cost of this mod could be well over $1000. What's your call on this, was the investment worth it? Let us know down in the comments!