Samsung Galaxy Note II is here – do you like it?
57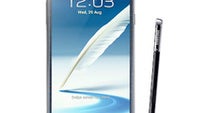 To the surprise of no one, the
Samsung Galaxy Note II
was officially unveiled during the Unpacked event hosted by the Korean company in Berlin. It is exactly what we were expecting it to be, namely a bigger, better, and more capable Galaxy Note, equipped with an improved S Pen and loaded with useful software features. At 5.5 inches, its screen is bigger than the one on its predecessor and should be even sharper since it uses a standard RGB pixel arrangement. The processor has also been upgraded to a quad-core Exynos 4412, which is the exact same piece of silicon that ticks inside the Galaxy S III, but runs faster at 1.6GHz.
Now, all of that sounds pretty impressive and we cannot deny that we are excited to try out the Galaxy Note II first hand. But what about you, dear readers – are you impressed with what the Samsung Galaxy Note II turned out to be? Or perhaps it doesn't quite meet your expectations? That is what we want to learn today with our poll, so feel free to participate by casting your vote below!
Recommended Stories