Samsung Galaxy Note Fan Edition teardown reveals a new, smaller-sized battery
8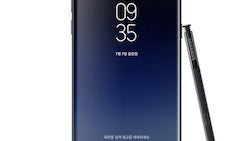 There is no need to remind you of
what happened with Samsung's Galaxy Note 7 smartphones last year,
as their flammability, due to faulty batteries, still hits headlines and is subject of anecdotes to this day. Well, last week was kind of a reminder itself, as the Korean tech giant launched the
Galaxy Note Fan Edition
, effectively re-offering the
Note 7
in a slightly revamped, but apparently safer build.
We wrote about
what sets the Note FE apart from its problematic predecessor
at first sight, taking note of the omitted Samsung logo under the earpiece, the integrated Bixby support and Samsung Experience UI, the upgrade to Snapdragon 821 from 820 in the original Note 7, as well as, yes – the new battery. To be honest, given the model's history, we were mostly intrigued by the last change, as it was the pivotal point that turned Samsung's Note 7 into a massive fiasco, after many reports of exploding battery units.
A recent teardown of the FE device by iFixit has given us a closer look into what's under the back panel of the phone and what the new battery is like.
The 3500mAh piece in last year's Note 7, like we told you before, has been substituted for a 9% smaller, safer 3200mAh unit in the FE. Compared to the old one, the new battery is 2.3 grams lighter, weighing at 45.4 grams. The 3200mAh piece also features smaller dimensions, measuring at 37.4mm x 97.2mm x ~5mm. Just for comparison, the flammable 3500mAh unit measured at 37.9mm x 97.8mm x 4.9mm.
The teardown comparison involved only one sample of each battery – one old, one new – and cannot be said to prove conclusively or finally whether the newer battery is indeed safer. It's worth saying that the new battery has passed Samsung's 8-point safety checks and should stay flame-free. But we guess that this is something only time can tell for sure. Even though the Note FE is intended for the Korean market only, it will be more than interesting to follow up on the battery upgrade, as the original Galaxy Note 7 is something that will be remembered for a long time, not just in Korea, but around the globe.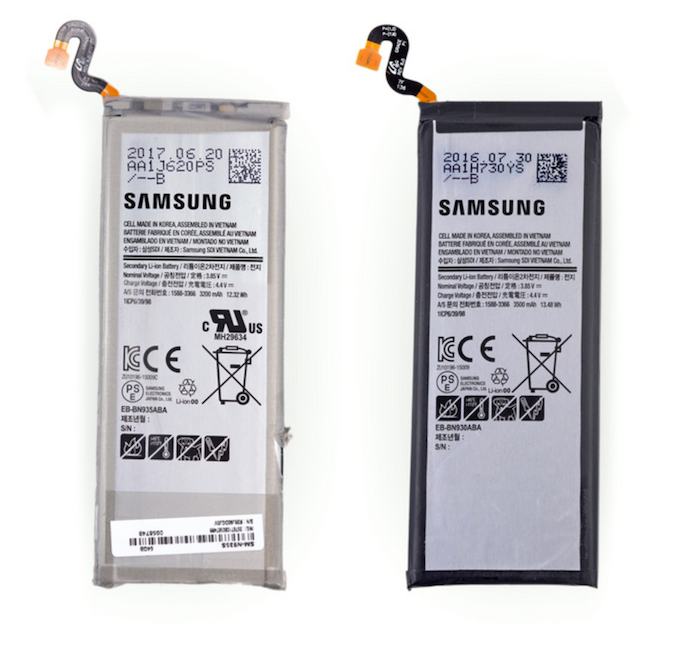 The new and old batteries are pretty much similar in size, but the smaller performed better at risk tests. Image credits to iFixit.