Samsung wants you to spend less time on your Galaxy Note 8, says this Thrive app can help
16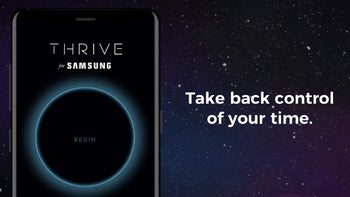 Starting with the premise that "your phone is useful, but sometimes you need to put it down," Samsung this week introduced a new free app for its Galaxy Note 8 smartphone. Called Thrive, the app allows you to block all notifications (including calls, texts, and anything that's app-related) for customizable periods of time, whenever you need to just disconnect from your handset.
The Thrive app features auto replies, letting those who call or text you know that you're taking a break from your phone. If you want, you can make a VIP list with people who are allowed to reach you at any time. There's also an App Control feature that aims to help you limit the time you spend on specific apps.
According to Samsung, Galaxy Note 8 users should have access to the Thrive app as of yesterday, January 16, via the Galaxy App store. The new application - which isn't developed by Samsung, but by Thrive Global - will be made available for more Samsung devices soon.
The silent video embedded below provides a quick look at Thrive and the ways it can help you "take back control of your time". Do you think you'll want to try this new app on your Samsung Galaxy phone?