Samsung Galaxy Note 8 and S8 now come with a free Gear 360 Camera (on Verizon, AT&T, Sprint)
8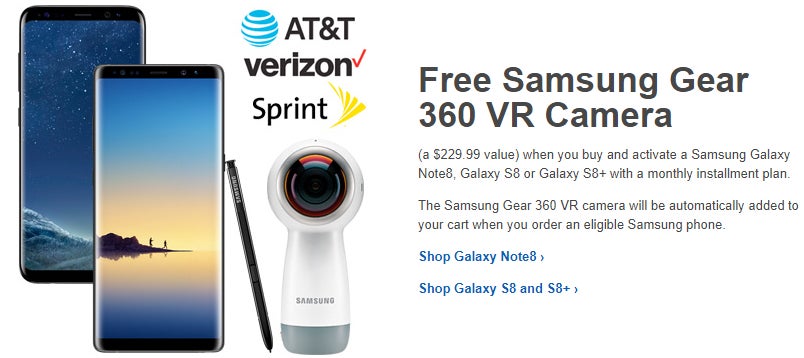 Are you looking to buy a new high-end smartphone made bySamsung? If you are, Best Buy has a nice deal for you, assuming you want toget your new device on Verizon, AT&T, or Sprint.
For a limited period of time, Best Buy is offering a freeSamsung Gear 360 VR Camera (2017) to all customers who are purchasing a GalaxyNote 8, Galaxy S8, or Galaxy S8+ with a monthly installment plan on any of thethree carriers mentioned above. The VR Camera is automatically added to your cart when ordering an eligible phone. T-Mobile customers can't take advantage of thisdeal, as Best Buy does not offer T-Mobile smartphones.
Normally sold for $229.99, Samsung's Gear 360 VR Camera canbe a fun and useful accessory if you're into panoramic and 360-degree photos and videos - whichcan be shared either for regular viewing, or VR (virtual reality) viewing. TheCamera can record video in 4K, supports microSD cards, and it even lets you broadcastlive. You can find out more about the device if you check out our Samsung Gear360 (2017) review.
source: Best Buy