Samsung Galaxy Note 7R is listed for sale in China
34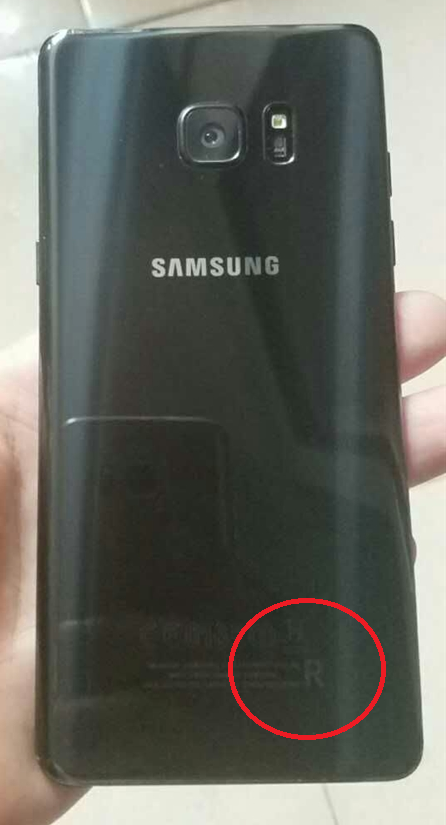 The R (circled) means that the phone pictured is the refurbished Samsung Galaxy Note 7R
Not too many people get to pull off an amazing comeback by seizing victory from the jaws of defeat. Off the top of our heads, the 1986 New York Mets come to mind. One strike away from losing the World Series to the Boston Red Sox in six games, the Mets overcame a two-run deficit with an amazing victory. The next night, the team won the World Series in seven games. Then, there is the Miami Heat. Down by three with seconds left in Game 6 of the 2013 NBA Finals against the Spurs, Chris Bosh grabbed the rebound off a missed three point shot from LeBron James, and casually fed the ball to Ray Allen along the right wing. Allen's three-pointer tied the game and sent it to overtime. The Heat won Game 6 and Game 7 the next night for their second consecutive title.
Now, the
Samsung Galaxy Note 7
is attempting an even more difficult comeback. After a pair of recalls last year left the phablet as the butt of explosion and fire jokes, Samsung is bringing a refurbished version of the handset to certain markets. The Galaxy Note 7 was on the way to becoming Sammy's most popular phone ever when the shit hit the fan. Needless to say, Samsung took a terrific wallop in the pocketbook which is not going to be recouped by offering the refurbished model.
Today, the Samsung Galaxy Note 7R (the "R" stands for refurbished, obviously) has made an appearance through a merchant in China. The back of the phone has a distinctive "R" symbol on its back to prevent someone from ripping off a buyer by selling one of the recalled units. The recalled models now have the functionality of a brick.
There are two versions of the Galaxy Note 7R being offered, depending on where you live. One version for the U.S., Europe and Asia Pacific markets comes with a 3200mAh battery, a 300mAh lower capacity than the juicer on the original model. That device is priced at the equivalent of $521 USD. Another model, priced at the equivalent of $580 USD, is equipped with a 3500mAh battery that is modified to prevent any explosions.
With the
Samsung Galaxy Note 8
expected to take center stage at IFA in Berlin in September, there is no rush to pick up the Note 7R, especially since the Galaxy Note 8 will sport a higher capacity battery that will benefit from Sammy's new 8-point check up. It also is expected to feature an edge-to-edge screen similar to the
Samsung Galaxy S8
, and a rear-facing dual camera setup.
source:
MyDrivers
(
translated
) via
Playfuldroid
Recommended Stories