Samsung Galaxy Note 7 wallpaper is right here, right now
20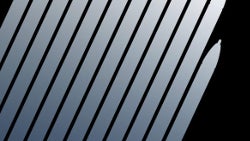 The
Samsung Galaxy Note 7
might not see the light of day until August 2nd, and you might not have it in your hot sweaty hands until August 15th. But that doesn't mean that you can't scroll through the Samsung Galaxy Note 7's wallpaper today. By going through the choices, you can decide which one you will select to have on your new phablet as soon as you have it up and running for the first time.
Some of the wallpaper options have already appeared on previous Galaxy Note 7 leaks. If you're a frequent PhoneArena reader, you're probably familiar with the S Pen design wallpaper, which happen to be available in four different colors. Some of the other wallpaper includes pastel colors, and triangles seem to be on Samsung's mind this year.
To check out the Samsung Galaxy Note 7 wallpaper, click on the slideshow below. If you are looking for full-sized PNG original images, click on the sourcelink.
source: AndroidAuthority (
1
), (
2
)