Samsung Galaxy Note 5 and S6 edge Plus drop by the FCC with Verizon and AT&T LTE bands
30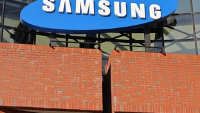 Earlier today, it was discovered that both the Samsung Galaxy Note 5 and the Samsung Galaxy S6 edge Plus have paid a visit to the FCC. Most of the time, when a device gets certified by the FCC, it's a sign that a launch could be close by, and, in the context of the recent August-launch rumors surrounding the Galaxy Note 5, this is noteworthy information.
This past week, both
unnamed insider sources
and
industry analysts
stepped up to claim that the Samsung Galaxy Note 5 will be unveiled on August 12. While the release date estimates vary between August 14 and August 21 (to us, the latter is the more plausible), the general consensus seems to be that Samsung will hurry to launch the
Galaxy Note 5
, as well as a dual-edge variant expected to be called the Samsung Galaxy S6 edge Plus, as early as possible. If you're wondering, yes, the culprits are said to be the upcoming
Apple iPhone 6S
and
iPhone 6S Plus
.
Starting with the Galaxy Note 5, both AT&T and Verizon versions have been spotted in the FCC database. The Verizon Galaxy Note 5 bears the model number SM-N920V, and is compatible with Verizon LTE bands 2, 4, and 13. The SM-N920A, the AT&T version, is compatible with AT&T LTE bands 2, 4, 17, and band 12, which AT&T will start using in September.
Just in case you need a short recap, the Samsung Galaxy Note 5 is expected to come with an all-in-one
Exynos 7422
chipset,
4GB of RAM
, and 5.67-inch Super AMOLED display running at 1440 by 2560 pixels (QHD). In terms of design, the Galaxy Note 5 is said to draw much inspiration from the Galaxy S6, and will integrate a
metal frame and a glass back
.
Unfortunately for some
, multiple sources have suggested that the similarities will extend to the lack of a removable battery and microSD support.
The Verizon and AT&T versions of the Samsung Galaxy S6 edge Plus bear model numbers of SM-G928V and SM-928A, respectively, and support the same LTE bands as the Note 5 versions.
As the rumored name suggests, the Samsung Galaxy S6 edge Plus is said to be a blown-up version (in terms of size) of the S6 edge. While some of the
early reports
argued that Samsung will make use of Qualcomm's Snapdragon 808 chip, recent information suggests that
Samsung has ultimately opted for the Exynos 7420
, the same chip that powers the Galaxy S6.