Samsung Galaxy Note 4 vs Nexus 6 blind camera comparison: you choose the better phone
50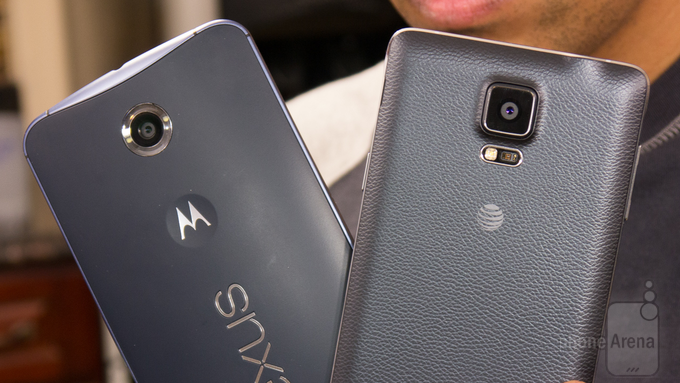 Camera comparisons – we do them frequently here at PhoneArena, and each post is enjoying plenty of attention from our readers. That's no surprise at all since many are the people wanting to know which are the phones equipped with the best cameras. Today's camera comparison is of the blind variety, meaning that we're about to give you a set of photos and we'll ask you to vote for the images you like best.
For this blind camera comparison, however, we decided to do things a bit differently. First and foremost, we're not going to hide the identities of the two phones going head to head. These are the
Samsung Galaxy Note 4
and the
Google Nexus 6
. But
we've shuffled the images around
so you still won't know which of the two phones was used for capturing each photo. And because of this, we're asking you to judge each pair of photos individually.
We must note that we used the cameras' automatic settings throughout the shootout, with HDR and their LED lights set to off. All photos have been trimmed to a 16:9 aspect ratio and resolution of about 9.7 megapixels. Now that we've made this clear, we'll let you cast your votes below. Expect the results to be announced in a few days.
Scene 1 – Daytime
Let's start with a pair of photos taken on a sunny afternoon. The scene is ideal for judging how well the cameras preserve details when shooting in favorable conditions.

Side-by-side preview
Scene 2 – Indoors
The following scene was taken indoors, inside of a mall's hallway. The lighting was moderate at best, yet still descent for our phones to produce acceptable images. Plenty of details and colors in the shot await to be analyzed.

Side-by-side preview
Scene 3 – Afternoon
Now let's move onto a scene with a bit more contrast in it. Here we have the woods casting their shadows over the pathway and a monument in the background well-lit by the setting sun. Shadowy areas are usually tricky for smartphone cameras to capture in detail, so be sure to check those out carefully.

Side-by-side preview
Scene 4 – Close-up
Here's a close-up of a bush's fiery-red berries (the kind you probably don't want to eat). Bright shades of red are usually difficult for a smartphone camera to preserve faithfully. So, which phone did a better job at it?

Side-by-side preview
Scene 5 – Night
And lastly, we give you a night scene, the kind of which is tricky for most phones to capture well. Clearly, there's a huge difference in how these two devices perform in low light, so let us know which one you like better.

Side-by-side preview