Samsung Galaxy Note 4 massive specs shown in new leak
99+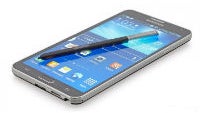 We're a few months removed from the announcement of Samsung's flagship for the first half of the year, the Galaxy S 5; and, we're still a few months away from the announcement for Samsung's second half flagship, the Galaxy Note 4 (model name N910). But, a new leak may be giving a much more clear picture of what to expect from the Note 4 and its potentially massive specs.
According to
SamMobile
, there will be the usual two different models for the Note 4 - one for North America, South Korea, China, and Japan, and one for everywhere else. And, as you might expect, the North American version will be running a Snapdragon 805 SoC, while the other model will use Samsung's own Exynos chipset. Word has it that the Exynos SoC to be used will be the 5433, codenamed "HelsinkiPro". The report is confirming that the device will have a 2560 x 1440 (QHD) resolution AMOLED display, but there is no word yet on the size of that display. Of course, since this is a Note device, it is safe to assume the display will be in the 5.7-inch to 6-inch range.
As far as the other specs to expect, the report says the Note 4 will carry a 16MP rear camera with optical image stabilization (OIS), which will be made by Sony. The front camera should be the same 2MP sensor found on the Galaxy S5. Another interesting addition is that beyond the usual sensors that you might expect, Samsung is reportedly also putting a UV sensor in the Note 4. This could allow for better auto-brightness adjustments to reduce eye strain, and could be able to connect with wearables to offer better sleep tracking data. And, of course, it could help to warn you if you are at risk for a sun burn when you're outside. That seems like a useful addition.