Samsung Galaxy Note 4 gets fancier S Pen from Montblanc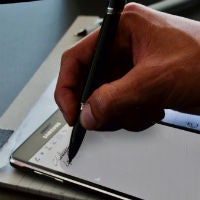 The S Pen has been one of the hallmarks of the Galaxy Note line of smartphones and tablets, and that has not changed this year. However, Samsung is apparently trying to make its devices seem a bit more luxury, and is doing so with the help of other companies. We've already seen the Swarovski editions of the
Gear S
and
Note 4
, and now we're seeing special S Pens from Montblanc.
Montblanc is one of the most well known high-end "writing instrument" makers in the world, but is not a company known for making styluses. And, even with this partnership, it may not be, because Montblanc and Samsung are insisting on calling these new styluses "digital writing devices". As you can see below, they certainly look much fancier than a traditional S Pen, and will even feature swappable tips to mimic various pen nibs. It is unclear right now if there will be anything special about the tech inside the so-called Pix and e-StarWalker (Montblanc has a history with the latter name, so Disney's legal team may not have a claim), but they will be optimized for use with Samsung Galaxy Note phones and tablets.
In addition to the two "digital writing devices", Montblanc has designed two leather folio cases, one "soft grain" and one "extreme", whatever that means. As with the other Samsung accessories, we don't yet have any info on release dates or pricing.
img source: The Verge