Samsung Galaxy Note 4 LTE-A with Snapdragon 810 unveiled: 300Mbps speeds, release date set for January 2015
24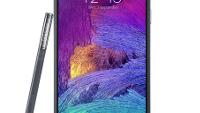 On Monday, Samsung announced a faster version of the
Samsung Galaxy Note 4
: the Note 4 LTE-A, equipped with the newest Snapdragon 810 64-bit system chip and boasting category 9 LTE modem. The release date for the Note 4 LTE-A is set for January 2015, but the initial roll-out will be limited to South Korea (and we're yet to hear whether any other markets will get that new model). Still, it's impressive that Samsung is able to outpace the industry as this will likely be the first commercially available Snapdragon 810 device.
The current model supports LTE-A with dual-band carrier aggregation, and speeds as fast as 150Mbps. As zippy as that sounds, the Samsung Galaxy Note 4 LTE-A melds three bands and can handle download speeds of 300Mbps. While this defines LTE Category 6, the new variant of Sammy's phablet will actually support LTE Category 9 and 450Mbps download speeds. But those speeds won't be available until sometime next year.
At 300Mbps, a 700MB video can be downloaded in 19 seconds. 10 songs, or 40MB of tunes, will take all of one second to load. To take advantage of such speeds, you need to be connected to a tower that actually supports tri-band carrier aggregation. The 300Mbps dataspeed is four times faster than garden variety LTE.
There is no word on pricing or availability of the Samsung Galaxy Note 4 LTE-A. It is extremely doubtful that Samsung will be offering this version of the Note 4 in the U.S. Earlier this year,
when the company announced the
Samsung Galaxy S5 LTE-A
, it was made clear that
the device would be available only in South Korea
. There since have been
rumors of a Galaxy S5 LTE-A made for European markets
, although that model has yet to get past the speculative stage.
source:
Samsung
via
AndroidCentral