Samsung Galaxy Note 3's new software features detailed
45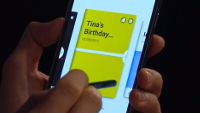 While it's quite possible that we're stillaffected by the unveiling of the Samsung Galaxy Note 3 that tookplace just moments ago, we're going to say it anyway: pastthe bleeding edge hardware, the new functionality that is set to comewith the TouchWiz version of Android loaded on the Note 3 has us intrigued. And we mean that in an honest, but cautious way.
Our weariness of the subject isn'tsomething new or exclusive – the traditional TouchWiz skin thatSamsung slaps on top of stock Android on each and every devicecarrying its logo has made a quite a few enemies. The reasons forthat couldn't be more clear cut: it's absolutely bloated, containingover 250 apps in its entirety. And althoughit's extremely feature-rich, we think that many agree that most ofthese are gimmicks and sometimes even worse: a complicated spin-offof an otherwise simple and intuitive functionality.
So what prompted this rollercoasterof seemingly conflicting statements that you saw above? Well, we'dobviously like to reserve the privilege of modifying our view on thislater on, pending a hands-on review. Needed disclaimers aside, whatSamsung's presentation showed us in terms of new functionality mayjust be what the South Korean company needs to finally scale the gapbetween promising, but ultimately gimmicky features and usefulreal-world application.
We'll be obviously going throughthese a number of times in the weeks to come, and we're sure beyond a shadow of doubt that time will tweak away, or outright enforce, anew way of looking at the latest slew of new Samsung Galaxy Note 3features. Namely, and to start this off, a quick hover over the Note 3's screen, along witha click of the button on the S Pen stylus will now introduce a sortof a quick menu that Sammy is dubbing Air Command. The circular ringallows for a swift access to five actions that Samsung has deemedmost important and useful:
Action Memo: taking the torch from S Memo, Action Memos see your handwritten input as more than just a static image. Write down somebody's phone number, and you can quickly fire off a call to him right from the app.

Scrapbook: a Samsung spin-off of apps such as Google Keep and Pocket, Scrapbook allows you to organize and track down content that you've curated from various sources.

Screen Write: captures a full-screen image of what you're looking at the moment, allowing you to then add comments or simply scribble away on top of it.

S Finder: functions as implied by allowing you to perform powerful searches across numerous categories. For example, you can search (and find, it is implied) for hand-written content in your notes and memo apps, as well as symbols and formulas.

Pen Window: by far the most interesting of the five, it reminds us of Sony's so-called 'Small Apps' idea. Basically, it allows you to outline an area as big or as small as you like, and then launch an app of your choice within those exact confinements. Sounds and looks great for a number of uses.
Speakingof interesting concepts, we can't wait to see how the new andimproved Group Play handles real-life scenarios. Previously all about turning a bunch of Galaxy S4's into a chorus by playing music andaudio files simultaneously, the new version will also allow you toshare video, and most impressively – join in several Galaxy Note3's to form one giant display. As gimmicky as it may sound, we have afeeling a fair number of people will be immediately sold on the newphablet, should the feature work seamlessly and as described.
Anothernewcomer to the version of TouchWiz powering the Samsung Galaxy Note3 is a preloaded app called My Magazine, built in collaborationwith the developers of Flipboard. Visually and functionallyreminscent of the aforementioned stylish news aggregator, My Magazinehas the added benefit of serving location-based, and therefore morerelevant, content to users.
Othernoteworthy features that we've heard about so far include:
Multi Window: improved over its predecessor, Multi Window is bound to increase productivity, or at least streamline the multitasking experience. It works by allowing you to have several windows up at once, even from the same type, meaning that you can chat with several people on your Samsung Galaxy Note 3 simultaneously, without having to tab out of anything. A very handy Drag and Drop command has also been incorporated into Multi Window, allowing you to copy and paste content, like text and images from one window to the other.

Samsung KNOX has dropped out of its mostly exclusive domain of business-to-business service, and is now available to your regular Joe, as well. Samsung KNOX provides system-level protection against malware, phishing and hacking attempts, making it a suitable BYOD to work (Bring Your Own Device). Moreover, the new and improved Find My Device service will let users completely disable their devices remotely, in cases of theft.

The Galaxy Note 3 will come preloaded with third-party applications, though its not exactly clear which, and how many, will make an appearance. Some of these include Evernote, Path, Line and eBay.
Soare we headed towards a time when Samsung will finally manage toconvince even the hardcore vanilla Android fans of the merits of its highly-customized TouchWiz? Unlikely, but if the slew of newfunctionality performs as well as they read on paper, then it'llcertainly be a massive step forward for the in-house skin andSamsung, both.