Samsung Galaxy Note 10.1 might become a different tablet from what we saw at MWC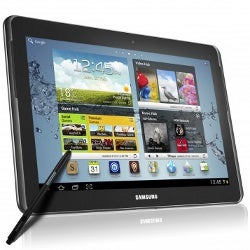 The
Samsung Galaxy Note 10.1
was launched at MWC and while it offers S Pen input much like an oversized Galaxy Note phone, it failed to impress much and it pales in comparison to the high-res new iPad. Samsung seems to have noticed that the Note 10.1 might not be the most competitive tablet it's released, and now
confirmed that it has no release date
for the device yet, and the actual specs might change.
The Korean company also warned that what we saw back in February, might turn out to have little in common with the actual product when it gets released.
Back then, the Note 10.1 was announced with a 1.4GHz dual-core Exynos chip, a 1280 x 800-
pixel
display, and a 3-megapixel rear camera.
This situation starts to remind the original Samsung Galaxy Tab, which was initially announced as a thick, brick of a tablet, but Samsung took note after the iPad 2 launch and went back to the drawing board to slim it down and make it more attractive. For the Note, though, we're not sure how the company will change, so stay tuned - there might be more to this than visible on the surface.