Leak reveals U.S. pricing range for the entry level Samsung Galaxy Note 10
43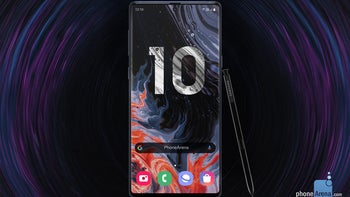 Most likely, you're wondering about the price of the Galaxy Note 10. According to an unnamed source "familiar with the plans" that was
cited by T3
, the entry-level variant of the Galaxy Note 10 will be priced in the neighborhood of $1,100-$1,200. That's a pretty pricey neighborhood, to say the least, and is approximately $100-$200 more than the $999 price tag found on last year's
Galaxy Note 9
. As a comparison, the 64GB
Apple iPhone XS Max
is priced at $1,099 and goes as high as $1,449 for the 512GB unit.
The standard version of the Galaxy Note 10 is expected to feature a 6.3-inch curved AMOLED display. Units headed to the U.S. will sport the Snapdragon 855 Mobile Platform while the Exynos 9820 will be found under the hood in other markets. There is an ultrasonic in-display fingerprint scanner, and to warm the hearts of many Samsung fans, there will apparently be no Bixby button. The Galaxy Note
10 Pro
will be equipped with a 6.75-inch display and a quad-camera setup on the back. There will be both 4G LTE and 5G versions of these two models, which gets us to the four different variants rumored earlier this year.
Expect to pay no less than $46 a month for the Galaxy Note 10

We expect Samsung to unveil the new Galaxy Note 10 line in August. The phone will support a 45W fast charger which is triple the power used to fast charge last year's Galaxy Note handset and this year's Galaxy S10 line. The Galaxy Note 10 is rumored to sport a 3400mAh battery while a much larger 4500mAh battery is expected to power the Galaxy Note 10 Pro.

The Galaxy Note has come a long way since 2011's first-generation model. The OG
Galaxy Note
featured a 5.3-inch screen, which seemed gigantic at the time. The first Galaxy Note introduced the S Pen, which was revamped for last year's Galaxy Note 9. The S Pen now features support for Bluetooth LE, which allows it to act as a remote shutter for the camera, control some media playback functions, and remotely navigate a slideshow. It will be interesting to see whether Samsung gives the S Pen some new capabilities this year.
While the Samsung Galaxy Note 10 is shaping up to be a powerhouse, especially the Galaxy Note 10 Pro, it also is going to be priced accordingly. So if you are thinking about purchasing the phone, expect to pay no less than $46 a month over 24 months for the entry-level version of the device.