Samsung Galaxy Core II, Ace 4, Young 2 prices revealed
8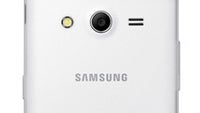 Just two days ago, Samsung unveiled a refresh to a whopping four devices in its mid- to low-end ranks, but only now we learn about their prices.
The newly-unveiled
Samsung Galaxy Core II
is said to carry a price of €179 (the equivalent of $245) in Europe, according to Samsung Netherlands. A successor to last year's successful 4.3" Galaxy Core, the Core II comes with some significant improvements: a larger, 4.5" display, a more powerful, 1.2GHz quad-core chip (versus a dual-core one on the original Galaxy Core), and a bigger, 2000mAh battery (vs a 1800mAh juicer on the first Core). It's also got a new leather-imitating finish, contributing to a new, softer touch and feel.
The
Samsung Galaxy Ace 4
, on the other hand, is reported to be priced at €219. It's a device with 4-inch WVGA display, 1.2GHz dual-core processor, and a 5-megapixel camera.
This seems like a mistake, though: the higher-specced Core II should cost more than the Ace 4. It seems that Samsung Netherlands has simply switched the prices, so our guess is that in fact it is the Core II that costs €219, while the Ace 4 is priced at €179.
Finally, the
Samsung Galaxy Young 2
, a 3.5" KitKat-running phone with a 1GHz single-core processor is expected to be priced at €99. How do you like the prices of these affordable phones?
source:
Samsung Netherlands